Dynamic Pricing
ARC's policy is to set ticket prices based on demand, like budget airlines, which means we set a price when the event goes on sale and then sometimes put the price up or down depending on how the show is selling. Usually, the price will increase as we get closer to the event, so it is advantageous to book in advance, although sometimes we will put special offers on and reduce the price. Our website will always show the current ticket price.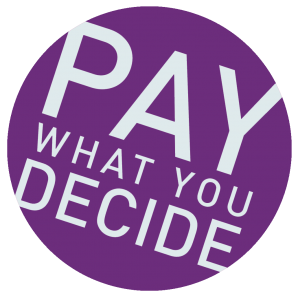 ARC's theatre and dance performances are priced on a Pay What You Decide basis, which means you don't have to pay until after you have seen a show!
We want to encourage more people to come and see shows at ARC, more often. Pay What You Decide not only allows you to pay what you can afford, rather than a fixed ticket price, but also removes the financial risk of buying a ticket for a show in advance without knowing whether you are going to enjoy it or not.
Tickets are available to book in advance as usual, but there is no obligation for you to pay until after you have seen the show. You can then decide on a price which you think is suitable based on your experience, which means if you haven't enjoyed it at all, you don't have to pay anything.
All money collected will help ARC pay the artists who have performed, and we therefore hope you will give generously.
Please ensure you have arrived and collected your tickets 15 minutes before the show starts in order to secure your seats. At the end of the show, you can decide what to pay, either by cash on the door or by card at the Box Office.
A living history of the disability arts movement in North East England.
There is a rich history of disability art in North East England stretching back over almost forty years, but much of it lives on in the shadows of peoples' memories. This exhibition and archive is a celebration of a powerful movement and a vibrant community of disabled people who forged a path towards greater cultural freedom and representation, from the bubbling subversive world of the 70s and 80s cabaret and performance scenes, involving disabled artists working in a variety of artforms, and inventing new ones.
The first phase of the living archive of On Whose Shoulders We Build was launched earlier this year by Black Robin, an Irish disabled filmmaker and photographer based in the North East for 30 years this year. He has an extensive collection of filmed and photographed work by disabled artists and didn't want it to go dusty on the shelf, instead paying tribute to all those who have made a difference to the lives of disabled people through the arts in our region.
In July and August he is thrilled to be launching an exhibition of the same title, On Whose Shoulders We Build, at ARC Stockton sharing images, stories, footage and portraits of disabled artists and activity past and present, revealing pioneering and ground breaking arts activity and the roots of the disability rights movement's push for cultural equality and accessibility.
The Disabled Peoples' Rights Movement is a civil rights movement and many people have spent lifetimes campaigning and protesting for better lives for disabled people. They forged a community and this feels like an important time to acknowledge that and pay tribute, and to ensure that future generations are aware of the foundations laid by ground breaking activists.
Accessibility – the exhibition launch will be BSL interpreted, captioned and audio description will be available for the exhibition. Any footage of events in the exhibition will be captioned and described.
You can find out more about the living archive at www.onwhoseshoulders.com
View the online exhibition below