No tickets are currently available.
Dynamic Pricing
ARC's policy is to set ticket prices based on demand, like budget airlines, which means we set a price when the event goes on sale and then sometimes put the price up or down depending on how the show is selling. Usually, the price will increase as we get closer to the event, so it is advantageous to book in advance, although sometimes we will put special offers on and reduce the price. Our website will always show the current ticket price.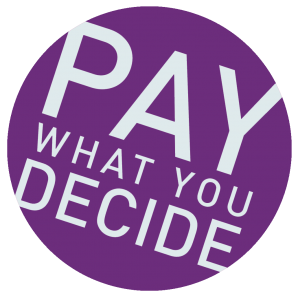 ARC's theatre and dance performances are priced on a Pay What You Decide basis, which means you don't have to pay until after you have seen a show!
We want to encourage more people to come and see shows at ARC, more often. Pay What You Decide not only allows you to pay what you can afford, rather than a fixed ticket price, but also removes the financial risk of buying a ticket for a show in advance without knowing whether you are going to enjoy it or not.
Tickets are available to book in advance as usual, but there is no obligation for you to pay until after you have seen the show. You can then decide on a price which you think is suitable based on your experience, which means if you haven't enjoyed it at all, you don't have to pay anything.
All money collected will help ARC pay the artists who have performed, and we therefore hope you will give generously.
Please ensure you have arrived and collected your tickets 15 minutes before the show starts in order to secure your seats. At the end of the show, you can decide what to pay, either by cash on the door or by card at the Box Office.
General Prices: Free
Duration: 10am - 3pm
This one-day event will bring together various local businesses and environment practitioners who have alternative solutions to some of the contributing factors to climate change. Julie Harrison is a Science and Engineering Presenter who has been working with young people on the causes of plastic pollution for over 10 years. Julie wants to encourage residents of Stockton on Tees and the surrounding area to make just one small change. No one is too small to make a difference, come along to find out what difference you can make.
Greta Thunberg, aged 15 from Sweden started school strikes to raise the issue of climate change and she is quoted for saying "it only takes one small change". Her campaign became global and young people are striking all over the world. Inspired by her campaign, and with the support of other campaigners Julie has put together a community environmental awareness day.
Some of the activities planned for the day are:
Local businesses and environmental projects/campaigners providing alternative solutions that are more environment friendly will have stalls throughout the day. Providing information and products they produce.
The event will be free for anyone of any age, or ability.
It is intended that this event be a kickstart for smaller more localised events in community centres and community venues.
Workshops:
1) Ocean Rescue – A workshop for children. They will be painting fish and other sea creatures to place inside a plastic bottle, with a message for future generations! There will also be some science about plastics. 
2) Greener Transport Solutions – Better use of public transport, cycling, electric cars – How easy is it to go electric? Is it more affordable? What about charging? and other issues.
3) Re-wilding & better waste management. – Delivered by Sharon Lashley (see Bio) How can we encourage more Birds, bees and other wildlife to our gardens.? How can we improve our local environment where we live?
Each workshop will run twice throughout the day. People rotate around them or just attend those they are interested in.
Come and visit the Market Place and see what local businesses are providing as alternative solutions. 
Full information about stall holders and workshop practitioners will be available closer to the day.
For further information contact Julie Harrison MBA via [email protected]