No tickets are currently available.
Dynamic Pricing
ARC's policy is to set ticket prices based on demand, like budget airlines, which means we set a price when the event goes on sale and then sometimes put the price up or down depending on how the show is selling. Usually, the price will increase as we get closer to the event, so it is advantageous to book in advance, although sometimes we will put special offers on and reduce the price. Our website will always show the current ticket price.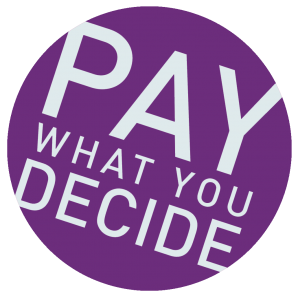 ARC's theatre and dance performances are priced on a Pay What You Decide basis, which means you don't have to pay until after you have seen a show!
We want to encourage more people to come and see shows at ARC, more often. Pay What You Decide not only allows you to pay what you can afford, rather than a fixed ticket price, but also removes the financial risk of buying a ticket for a show in advance without knowing whether you are going to enjoy it or not.
Tickets are available to book in advance as usual, but there is no obligation for you to pay until after you have seen the show. You can then decide on a price which you think is suitable based on your experience, which means if you haven't enjoyed it at all, you don't have to pay anything.
All money collected will help ARC pay the artists who have performed, and we therefore hope you will give generously.
Please ensure you have arrived and collected your tickets 15 minutes before the show starts in order to secure your seats. At the end of the show, you can decide what to pay, either by cash on the door or by card at the Box Office.
Seating: Allocated - See Seating Plan for More Details
Screenings of this film are relaxed screenings designed with autistic people in mind, but everyone is welcome.
Two years after saving Adventure City from Mayor Humdinger, the PAW Patrol pups, led by Ryder, help to protect the citizens, though the smallest team member, Skye, feels like she has been unappreciated and hopes to prove herself. One day, meteor expert Victoria Vance steals a giant electromagnet from a scrapyard owned by Hank and Janet and sets the scrapyard ablaze. Janet calls the PAW Patrol for help, who subsequently extinguish the fire. Later in the evening, the citizens of Adventure City, along with news reporter Sam Stringer, gather outside the PAW Patrol's headquarters as they wait for the meteor shower.
Director- Cal Brunker
Cast- Mckenna Grace, James Marsden, Kristen Bell
Film Club
Stay after the film and join us for craft-related play activities designed by the amazing Kitchen Zoo. Known for their joyful, energetic theatre for young audiences and families, and now for fun film-related activities for Film Club audiences at ARC.
Film Club is a nurturing and creative environment for you to make memories together. We are respectful that our young audiences engage and express themselves in activities in different ways, therefore, Film Club is a welcoming space for you and your family with films screened on a relaxed basis and suitable for all ages.