No tickets are currently available.
Dynamic Pricing
ARC's policy is to set ticket prices based on demand, like budget airlines, which means we set a price when the event goes on sale and then sometimes put the price up or down depending on how the show is selling. Usually, the price will increase as we get closer to the event, so it is advantageous to book in advance, although sometimes we will put special offers on and reduce the price. Our website will always show the current ticket price.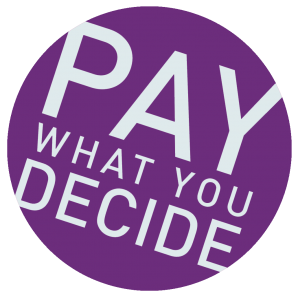 ARC's theatre and dance performances are priced on a Pay What You Decide basis, which means you don't have to pay until after you have seen a show!
We want to encourage more people to come and see shows at ARC, more often. Pay What You Decide not only allows you to pay what you can afford, rather than a fixed ticket price, but also removes the financial risk of buying a ticket for a show in advance without knowing whether you are going to enjoy it or not.
Tickets are available to book in advance as usual, but there is no obligation for you to pay until after you have seen the show. You can then decide on a price which you think is suitable based on your experience, which means if you haven't enjoyed it at all, you don't have to pay anything.
All money collected will help ARC pay the artists who have performed, and we therefore hope you will give generously.
Please ensure you have arrived and collected your tickets 15 minutes before the show starts in order to secure your seats. At the end of the show, you can decide what to pay, either by cash on the door or by card at the Box Office.
The Peace Blanket is a collective project completed by women mostly from Stockton but also Middlesbrough and Richmond. It is a collection of 64 squares and each square is sewn, embroidered or appliqued by individual women to reflect images of what peace means to them. The squares are joined together to produce a blanket.
The project was inclusive, open to any woman and free. We held workshops in a local community centre, Arc, North Tees Hospital, Poppy Rose and Richmond. Amongst the women, there were those seeking sanctuary, women with mental health problems, carers, young women and women having treatment for cancer. All materials were sourced from donations, often fabric which belonged to a relative who had passed away. We fundraised through Stockton Soup to pay for a local artist to put the squares together. We are a diverse group of women and were often joined at the workshops by local residents.
We wanted to develop a beautiful blanket which could be displayed to show the results of women working together, but most importantly the legacy is lasting friendships and a greater understanding of communities.
The inspiration for this Peace Blanket arose from the life of Jo Cox MP, her death and the rise in incidents of hate crime. Jo urged us all to find 'more in common than that which divides us' and we wanted to bring women together, from all walks of life, to build sustainable communities.
We established workshops and invited women to come along to design and make a square to represent what peace means to them. There are 64 squares in total completed by women from Stockton, Middlesbrough and Richmond.  The workshops were open to all women but included women who are surviving cancer, those seeking asylum, women with mental health problems and carers. Each square was lovingly put together to remember happy times, reflect wishes for the future and share what makes them feel at peace. The Blanket was put together with love and care by the talented Kim McDermottroe.
All the fabric was donated, much of it was given to us by family members who had lost loved ones who were sewers and had a stash of material. This made the Blanket even more special. We were also grateful to local business who donated fabric and time.  Thanks also to 'Stockton Soup' for crowd funding us so we could finish the Blanket to a professional standard.
There are two legacies left by the Blanket, firstly we have made something beautiful and we hope you enjoy it. Secondly, we have made lasting friendships. When women get together they achieve great things, we hope you agree and like our Blanket.