No tickets are currently available.
Dynamic Pricing Info
Dynamic Pricing
ARC's policy is to set ticket prices based on demand, like budget airlines, which means we set a price when the event goes on sale and then sometimes put the price up or down depending on how the show is selling. Usually, the price will increase as we get closer to the event, so it is advantageous to book in advance, although sometimes we will put special offers on and reduce the price. Our website will always show the current ticket price.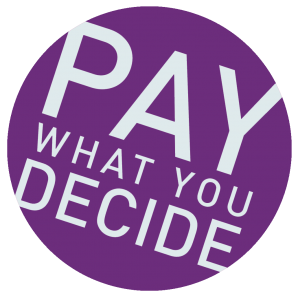 ARC's theatre and dance performances are priced on a Pay What You Decide basis, which means you don't have to pay until after you have seen a show!
We want to encourage more people to come and see shows at ARC, more often. Pay What You Decide not only allows you to pay what you can afford, rather than a fixed ticket price, but also removes the financial risk of buying a ticket for a show in advance without knowing whether you are going to enjoy it or not.
Tickets are available to book in advance as usual, but there is no obligation for you to pay until after you have seen the show. You can then decide on a price which you think is suitable based on your experience, which means if you haven't enjoyed it at all, you don't have to pay anything.
All money collected will help ARC pay the artists who have performed, and we therefore hope you will give generously.
Please ensure you have arrived and collected your tickets 15 minutes before the show starts in order to secure your seats. At the end of the show, you can decide what to pay, either by cash on the door or by card at the Box Office.
Seating: Allocated - See Seating Plan for More Details
With over 175 million online views and countless TV appearances under his belt, Pete is firmly established as the UK's top comedy magician. You may have seen him on ITV1's Tonight at the London Palladium and The Next Great Magician, BBC1's The Magicians, The John Bishop Show and The Sarah Millican Television Programme, or caught one of his massively popular viral videos on social media.
Pete is an award-winning performer who is not to be missed live. Expect an evening of jaw-dropping magic and laugh-out-loud comedy. TrikTok takes Pete's magic from the small screen to the stage and gives audiences a chance to see his critically-acclaimed magical skills in the flesh.
★ ★ ★ ★ ★ The Mirror
★ ★ ★ ★ ★ Time Out
★ ★ ★ ★ Independent
★ ★ ★ ★ Scotsman
★ ★ ★ ★ Metro
Theatre - Access Information

Seat size

In our theatre the seats are 38cm (15″) wide and 44.5cm (17½") deep. The seats are 44cm (171/3") from the floor, and have an 8cm (3") gap between seats.

Armrests

Seats have armrests on either side of the seat which cannot be removed completely. Seats on rows A, C and D have armrests which can be folded away and slot between the seat backs. On all other rows armrests are fixed and cannot be folded or removed.

Legroom

There is 30cm (112/3") of legroom in front of each seat, with additional legroom in rows D and L, and in Box 1 and Box 2.

Further information

If you have any questions about accessibility our Box Office team are always happy to help and can be contacted on 01642 525199 or by emailing [email protected] - you can also tell us about your access requirements when prompted to do so during the online booking process.