No tickets are currently available.
Dynamic Pricing
ARC's policy is to set ticket prices based on demand, like budget airlines, which means we set a price when the event goes on sale and then sometimes put the price up or down depending on how the show is selling. Usually, the price will increase as we get closer to the event, so it is advantageous to book in advance, although sometimes we will put special offers on and reduce the price. Our website will always show the current ticket price.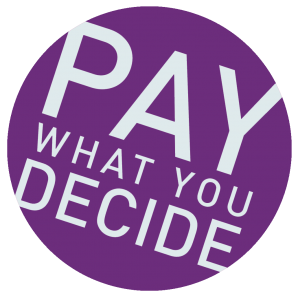 ARC's theatre and dance performances are priced on a Pay What You Decide basis, which means you don't have to pay until after you have seen a show!
We want to encourage more people to come and see shows at ARC, more often. Pay What You Decide not only allows you to pay what you can afford, rather than a fixed ticket price, but also removes the financial risk of buying a ticket for a show in advance without knowing whether you are going to enjoy it or not.
Tickets are available to book in advance as usual, but there is no obligation for you to pay until after you have seen the show. You can then decide on a price which you think is suitable based on your experience, which means if you haven't enjoyed it at all, you don't have to pay anything.
All money collected will help ARC pay the artists who have performed, and we therefore hope you will give generously.
Please ensure you have arrived and collected your tickets 15 minutes before the show starts in order to secure your seats. At the end of the show, you can decide what to pay, either by cash on the door or by card at the Box Office.
Seating: Unallocated - Cabaret
You can join us in person or online via Zoom for this event.
Pizza and Pitches is a community commissioning programme where four projects will pitch for the use of ARC's resources and expertise, and a budget of up to £1000 to make their project a reality. Which project is chosen is up to you, so come along, listen to the pitches, grab a slice of pizza, and vote for your favourite idea.
The next Pizza and Pitches will see four projects exploring environmental issues and sustainability pitch their creative idea. Come along and find out more from Members of Stockton's Creative Coalition for Climate Change when they pitch creative project ideas that can either be delivered in environmentally sustainable ways and/or explore environmental themes.
This event is free to attend. Everyone gets free pizza and a vote for ARC's next project.
About the projects:
Bottle pitched by Kieran Barker
How do you like the sound of a brand-new piece of environmentally conscious theatre for children and their grown-ups? Would you like to join Charlie on his adventure with a sorcerer to discover how we can reuse and upcycle our waste into something great? Come and hear from Kieran as he shares his idea about magic plastic bottles, a mystical being called The Man of The Trash, and how they feature in a new piece of theatre designed to entertain, educate, and engage children in environmental sustainability.
Getting on Track pitched by Lizzie Lovejoy
Would you like a chance to take part in a creative writing project about how we can travel in a climate-conscious way? This could be the beginning of a participatory creative project using the public transport links of Stockton's railway heritage to explore how we move through the world today. Find out more from Lizzie Lovejoy about how local participant could go from writing flash fiction to having their work featured in an exhibition, digital booklet or zine, or even a reading or performance.
Biodiversity of the River Tees pitched by Mel Greenwood
Do you want to give children from a local primary school the chance to learn more about our river, the benefits of biodiversity, and the current work being done to improve it? Would you love to see an exhibition in our Gallery that allows them to explore this fascinating subject through their own creative work? Come along and find out more from Mel Greenwood as she shares her idea to engage children from Tilery Primary school in the creation of their own writing, visual art, photography, and film work under the guidance of artist Lisette Auton.
Dear Future Me pitched by Ruth Watson
Would you like to see a project that gives people the chance to explore eco-anxiety and climate action in a creative way? Maybe you'd like the chance to take part in some mindful exploration, climate education, or to produce some of your own work in response to the present and future of climate change. Learn more from Ruth about the potential performance or exhibition that could take place as part of the project, and how she aims to make it reflective and inclusive for people from all backgrounds from across the borough.