Dynamic Pricing
ARC's policy is to set ticket prices based on demand, like budget airlines, which means we set a price when the event goes on sale and then sometimes put the price up or down depending on how the show is selling. Usually, the price will increase as we get closer to the event, so it is advantageous to book in advance, although sometimes we will put special offers on and reduce the price. Our website will always show the current ticket price.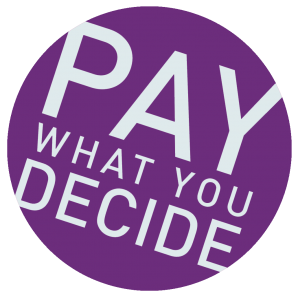 ARC's theatre and dance performances are priced on a Pay What You Decide basis, which means you don't have to pay until after you have seen a show!
We want to encourage more people to come and see shows at ARC, more often. Pay What You Decide not only allows you to pay what you can afford, rather than a fixed ticket price, but also removes the financial risk of buying a ticket for a show in advance without knowing whether you are going to enjoy it or not.
Tickets are available to book in advance as usual, but there is no obligation for you to pay until after you have seen the show. You can then decide on a price which you think is suitable based on your experience, which means if you haven't enjoyed it at all, you don't have to pay anything.
All money collected will help ARC pay the artists who have performed, and we therefore hope you will give generously.
Please ensure you have arrived and collected your tickets 15 minutes before the show starts in order to secure your seats. At the end of the show, you can decide what to pay, either by cash on the door or by card at the Box Office.
Any women* poets who live or work in Teesside are warmly invited to join the TWP (Tees Women Poets) for a series of four drop-in Poetry Playspaces on Saturdays 27 August, 17 September, 15 October and 26 November.
How does it work? Each Saturday has the same basic structure, with three sessions throughout the afternoon and evening. Come to whichever ones you fancy, as many as you like!
Each session will be very loosely led by various members of the TWP sisterhood, and by you – they're not workshops, they're spaces for co-creation, play, and connection.
There is time between each session for pure socialising and making new poetry friends over a cup of tea.
2pm – 3.30pm = Collaborative Writing. Join a project in progress, or start your own and find a writing partner.
4pm – 5.30pm = Compassionate Critique. Bring your poems in progress and get helpful feedback.
6.30pm – 8.30pm = Performance Lab. Rehearse and practice skills and techniques together.
Reserve your free place now!
Join the TWP Facebook Group for all notifications, or contact the TWP via email.
Visit the TWP website to find out more about what we do.
*We welcome trans women