Dynamic Pricing
ARC's policy is to set ticket prices based on demand, like budget airlines, which means we set a price when the event goes on sale and then sometimes put the price up or down depending on how the show is selling. Usually, the price will increase as we get closer to the event, so it is advantageous to book in advance, although sometimes we will put special offers on and reduce the price. Our website will always show the current ticket price.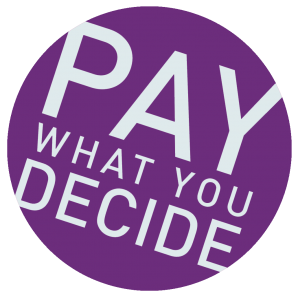 ARC's theatre and dance performances are priced on a Pay What You Decide basis, which means you don't have to pay until after you have seen a show!
We want to encourage more people to come and see shows at ARC, more often. Pay What You Decide not only allows you to pay what you can afford, rather than a fixed ticket price, but also removes the financial risk of buying a ticket for a show in advance without knowing whether you are going to enjoy it or not.
Tickets are available to book in advance as usual, but there is no obligation for you to pay until after you have seen the show. You can then decide on a price which you think is suitable based on your experience, which means if you haven't enjoyed it at all, you don't have to pay anything.
All money collected will help ARC pay the artists who have performed, and we therefore hope you will give generously.
Please ensure you have arrived and collected your tickets 15 minutes before the show starts in order to secure your seats. At the end of the show, you can decide what to pay, either by cash on the door or by card at the Box Office.
Refugee week 2021 takes place from Monday 14 – Sunday 20 June. This year's theme is We Cannot Walk Alone.
At ARC we normally get involved in Refugee Week with a huge celebration event. Because our building could not open for the event in 2020 due to COVID-19 this couldn't go ahead, and although we still can't throw a great party just yet we didn't want to miss this year's event. Instead we have a number of small events taking place for the refugee and asylum seeker community At ARC and online reflecting on this year's theme, We Cannot Walk Alone.
Creating Together with Displace Yourself Theatre
Every month Displace Yourself Theatre run Creating Together at ARC – activities for adults to try out and develop skills in lots of different creative and arts activities. Everyone who comes along will also get free lunch and tea and coffee. (Sessions have currently moved online while ARC's building is closed.)
The sessions are open to everyone, but are particularly relevant to:
People who have experienced, or are at risk of, homelessness
People who have come to UK seeking refuge or asylum
People with mental health support needs
You don't need to have taken part in arts and drama activities before, but if you have that is fine too. And if English is not your first language, don't worry, we will support you.
As part of Refugee Week 2021 Displace Yourself Theatre will be hosting a special online session around this year's theme We Cannot Walk Alone.
For more details, text 07949 154514, email [email protected] or visit Displace Yourself Theatre's Facebook page.
All In Youth Project/We Are TS18 dance sharing
Closed event.
To celebrate Refugee Week 2021 members of Teesside based dance groups We Are TS18 and All In Youth Project will be share their recent work with each other. Taking it in in turns to perform what they have been creating and rehearsing in their respective dance groups. Afterwards the groups will get to know one another a little better over some freshly made pizza.
Print your own T-Shirt drop-in!
Friday 18 June, 11am – 7pm
Open to everyone
Free
No Booking required
To celebrate Refugee Week at ARC we have commissioned Jane Bizimana to design an image to represent the people in our communities and pay tribute to this year's Refugee Week theme, We Cannot Walk Alone. Jane's image will be turned into a screen print and you will be able to come to ARC between 11am – 7pm on Friday 18 June and have the image printed onto one of your own t-shirts.
ARC is committed to reducing it carbon footprint and waste this is why we are asking that you bring your own t-shirt, the print is black so please ensure that the colour t-shirt you bring is a light shade (white and light grey will work best!).
Sessions are drop in so just pop by with your t-shirt!
We Cannot Walk Alone Short Film
Invite only
Exploring the Refugee Week theme for 2021, We Cannot Walk Alone by community filmmaker Ryan Dube, explores the positive impact of refugees on Stockton on Tees. Told through the eyes of refugees who have become part of the local community, and those who work with them.
Attendance at the screening is invite only. If you would like to come to the screening, or for more information please contact Chloe Lawrence, ARC's Programmes Manager on 01642 665400 or email [email protected]