No tickets are currently available.
Dynamic Pricing
ARC's policy is to set ticket prices based on demand, like budget airlines, which means we set a price when the event goes on sale and then sometimes put the price up or down depending on how the show is selling. Usually, the price will increase as we get closer to the event, so it is advantageous to book in advance, although sometimes we will put special offers on and reduce the price. Our website will always show the current ticket price.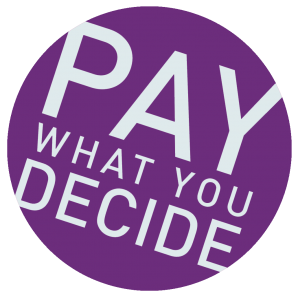 ARC's theatre and dance performances are priced on a Pay What You Decide basis, which means you don't have to pay until after you have seen a show!
We want to encourage more people to come and see shows at ARC, more often. Pay What You Decide not only allows you to pay what you can afford, rather than a fixed ticket price, but also removes the financial risk of buying a ticket for a show in advance without knowing whether you are going to enjoy it or not.
Tickets are available to book in advance as usual, but there is no obligation for you to pay until after you have seen the show. You can then decide on a price which you think is suitable based on your experience, which means if you haven't enjoyed it at all, you don't have to pay anything.
All money collected will help ARC pay the artists who have performed, and we therefore hope you will give generously.
Please ensure you have arrived and collected your tickets 15 minutes before the show starts in order to secure your seats. At the end of the show, you can decide what to pay, either by cash on the door or by card at the Box Office.
Following the success of 2018's Refugee Week Celebration Event ARC will once again be hosting an event for the whole community at the end of Refugee Week 2019 which will showcase and share the contributions, creativity and resilience of local refugees.
This free community event is open to anyone who would like to attend.
This event is supported by Stockton Borough Council, ARC, Catalyst and Stockton Riverside College.
The theme for this year's Refugee Week is You, me and those who came before #Generations
Join the conversation on social media with #RefugeeWeek2019 & #StocktonRefugeeWeek
3pm – 4.30pm – performances in The Point (music, dance, performance)
DJ – World Music
Tambor/Saz player
Drumming
Dance
Traditional African Dance Womens Group
4.30pm – 5.30pm – food in the Gallery
A selection of food prepared by and made using recipes from local refugees and Alsylum seekers.
Chicken Curry Pakistani Style (Murghi ka Saalan)
Vegetable Biryani
Chana Dal
Soup Nisk
Iranian Vegetable Stew
Albanian Rice
Onion Bhajis
Roti
5.30pm – 7pm – performances in The Point (music, dance, performance)
DJ – World Music
Bollywood Dance
African Traditional Dance Mens Group
Drumming
DJ
7pm – Close
Exhibition
You, Me and Those Who Came Before is an exhibition of community artists who responded to an open call to submit artwork that responded to the theme You, Me and Those Who Came Before, which is the national theme of this year's Refugee Week.
Artists exhibited
• Mary Banoub
• Jane Bizimana
• Salote Golightly
• Shirza Hillo
• Charly Mupenga
The exhibition also features work from Crooksbarn Primary School.
The theme You, Me and Those Who Came Before, is an invitation to explore the lives of refugees – and those who have welcomed them – throughout the generations.
People escaping war and persecution have been welcomed by communities in the UK for hundreds of years, and their stories and contributions are all around us. From the Jewish refugees of the 1930s to people fleeing Vietnam in the 1970s, Kosovans in the 1990s to those arriving today; they are part of who we all are.
Stalls Open from 3pm
Two stalls of bags, scarfs and jewellery
Information stands from:
Stockton Borough Council
Stockton Riverside College
Refugee and Asylum Seeker Drop Ins Stockton
Chinese Community
Asylum Matters
Cleveland Police
Stockton Council Learning and Skills
Please check back for more information closer to the day.