No tickets are currently available.
Dynamic Pricing
ARC's policy is to set ticket prices based on demand, like budget airlines, which means we set a price when the event goes on sale and then sometimes put the price up or down depending on how the show is selling. Usually, the price will increase as we get closer to the event, so it is advantageous to book in advance, although sometimes we will put special offers on and reduce the price. Our website will always show the current ticket price.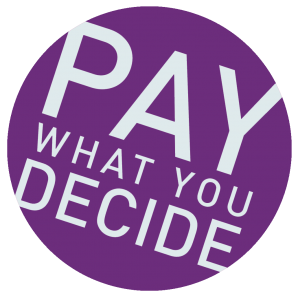 ARC's theatre and dance performances are priced on a Pay What You Decide basis, which means you don't have to pay until after you have seen a show!
We want to encourage more people to come and see shows at ARC, more often. Pay What You Decide not only allows you to pay what you can afford, rather than a fixed ticket price, but also removes the financial risk of buying a ticket for a show in advance without knowing whether you are going to enjoy it or not.
Tickets are available to book in advance as usual, but there is no obligation for you to pay until after you have seen the show. You can then decide on a price which you think is suitable based on your experience, which means if you haven't enjoyed it at all, you don't have to pay anything.
All money collected will help ARC pay the artists who have performed, and we therefore hope you will give generously.
Please ensure you have arrived and collected your tickets 15 minutes before the show starts in order to secure your seats. At the end of the show, you can decide what to pay, either by cash on the door or by card at the Box Office.
Seating: Allocated - See Seating Plan for More Details
Davy Chou's Return to Seoul, which premiered in Cannes 2022's Un Certain Regard, is an unpredictable and refreshingly authentic story of a young woman's search for identity. Park Ji-Min delivers a revelatory performance as Freddie, an adoptee who was born in South Korea and raised in France. Freddie is magnetic, spirited and hard to pin down; never in one place, or with one person, for long enough to get attached. At 25 years old, she visits Seoul for the first time since her adoption, in an attempt to reconnect with her biological parents and the culture she had to leave behind.
This film is in English, French and Korean with English subtitles.
Director
Davy Chou
Cast
Ji-Min Park, Yoann Zimmer, Guka Han, Kim Sun-Young, Louis-Do de Lencquesaing, Oh Kwang-rok
BBFC Ratings Info (May Contain Spoilers)

Language

There is infrequent strong language ('f**k'), as well as milder terms (for example, 'shit').

Sex

There is a verbal reference to a 'booty call', as well as verbal references to people sleeping together.

Drugs

A woman takes ecstasy in a nightclub. Although she initially enjoys the experience, she subsequently tells a friend that she feels 'strung out'.

Injury detail

A woman displays a healed scar on her body, and which is the result of a reported road accident.

Nudity

There is a brief scene of female breast nudity which does not feature within a sexul context,

Theme

The film contains scenes of emotional upset, most of which relate to the central female character having been given up for adoption when she was a baby. People cry and express regret for their decisions and actions.

Alcohol and tobacco

A man struggles with alcoholism.

Flashing/flickering lights

This work contains flashing images which may affect viewers who are susceptible to photosensitive epilepsy.

Seating Accessibility Information

Cinema

Seat size

Seats in the Cinema are 45cm (172/3") wide and 46cm (18") deep, are 40cm (152/3") from the floor, and have 12cm (42/3") between seats.

Armrests

Seats in the Cinema have armrests that do not fold away, and cannot be completely removed.

Legroom

Seats in the cinema have 30cm (112/3") of legroom in front of seats, with additional legroom on row A and seats B1-B4 and B11-B14.

Further information

If you have any questions about accessibility our Box Office team are always happy to help and can be contacted on 01642 525199 or by emailing [email protected] - you can also tell us about your access requirements when prompted to do so during the online booking process.

Information about screenings with subtitles

Subtitled screenings offer captions which transcribe dialogue only. Subtitled screenings attempt to give D/deaf and hard-of-hearing viewers an understanding of the spoken dialogue within the film, but do not include description about other aspects of the soundtrack, including music and sound effects.