No tickets are currently available.
Pay What You Decide Info
Dynamic Pricing
ARC's policy is to set ticket prices based on demand, like budget airlines, which means we set a price when the event goes on sale and then sometimes put the price up or down depending on how the show is selling. Usually, the price will increase as we get closer to the event, so it is advantageous to book in advance, although sometimes we will put special offers on and reduce the price. Our website will always show the current ticket price.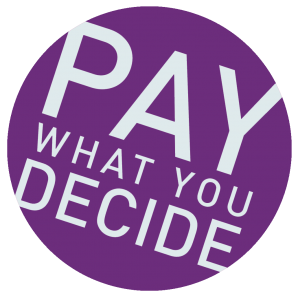 ARC's theatre and dance performances are priced on a Pay What You Decide basis, which means you don't have to pay until after you have seen a show!
We want to encourage more people to come and see shows at ARC, more often. Pay What You Decide not only allows you to pay what you can afford, rather than a fixed ticket price, but also removes the financial risk of buying a ticket for a show in advance without knowing whether you are going to enjoy it or not.
Tickets are available to book in advance as usual, but there is no obligation for you to pay until after you have seen the show. You can then decide on a price which you think is suitable based on your experience, which means if you haven't enjoyed it at all, you don't have to pay anything.
All money collected will help ARC pay the artists who have performed, and we therefore hope you will give generously.
Please ensure you have arrived and collected your tickets 15 minutes before the show starts in order to secure your seats. At the end of the show, you can decide what to pay, either by cash on the door or by card at the Box Office.
Seating: Unallocated - Theatre Style
Changing the world one ribbon at a time!
A participatory performance with sewing machines, a musician, a dancer, and YOU.
Around and amongst you: glorious colourful large pieces of cloth, ribbons and cutting, embroidering and story sharing, words and sentences – about what is important to you.
We will be making ribbons and gifting them to each other, or maybe you will even decide to wear one of your own for months to come.
Ribbons performance is a communal celebration of solidarity. We will be working together around the idea of who and what is a gift to our community.
Join us for an indulgent few hours of colours, movement, sound and visual beauty.
You can come and go as many times as you wish between 11am and 2pm, or stay with us for all three hours!
Artists
Natasha Davis (performance concept and creation) is a performance and visual artist and producer of projects in a range of media including live performance, installation, film and publication. She collaborates with extraordinary artists, scientists, institutions and participants from all walks of life, creating work that is embedded in the belief that art can inspire change. She has created and produced in community settings as well as at large venues such as Tate Modern and V&A, for festivals, in galleries, black boxes, warehouses, on ten-mile walk trails, ghost trains and online, in the UK and across five continents.
Jay Moussa-Mann is a songwriter and filmmaker whose songs have been played on BBC6 Music on Tom Robinson's Mixtape, BBC Tees Introducing and featured in Music Crowns, Skope Magazine, NE Volume and NARC Magazine. Her single 'American Tennessee' was chosen in the roundup of BBC Introducing Tees Best of 2021. It won Track of the Week on BBC Tees Introducing and has been broadcast on Amazing Radio and Roxanne de Bastion's Monday Morning Shake Up Show on Boogaloo Radio. It was in the last 50 semi-finalists for the Road to Nashville International Song Contest, chosen out of 20,305 entries.
Jo Stenberg is a textile artist who specialises in embroidery and printed textiles, after running a successful dressmaking business for many years. As a dressmaker, Jo designed and made commissioned garments and outfits ranging through fashion, bridal and costume. As a Creative Technician at the Northern School of Art, Jo specialises in textiles surface design working across embroidery, fabric manipulation, making, print and digital print, with a particular interest in contemporary embroidery.
Patricia Verity Suarez is a kind, passionate and thoughtful Movement Practitioner based in the Tees Valley. She holds an MA in Movement Directing and Teaching from the Royal Central School of Speech and Drama and an MA(Hons) in Theatre Studies from the University of Glasgow. Patricia has an interest in various movement modalities that embrace mindfulness, flow and play. She has worked with the Royal Shakespeare Company, LAMDA, Leeds Conservatoire, Northern Stage, Leeds Playhouse and Theatre Royal Bath. She is fond of walking on the North Yorkshire Moors and knitting.
Theatre: Seating Accessibility Information

Seating Accessibility Information

Seat size

In our theatre the seats are 38cm (15″) wide and 44.5cm (17½") deep. The seats are 44cm (171/3") from the floor, and have an 8cm (3") gap between seats.

Armrests

Seats have armrests on either side of the seat which cannot be removed completely. Seats on rows A, C and D have armrests which can be folded away and slot between the seat backs. On all other rows armrests are fixed and cannot be folded or removed.

Legroom

There is 30cm (112/3") of legroom in front of each seat, with additional legroom in rows D and L, and in Box 1 and Box 2.

Further information

If you have any questions about accessibility our Box Office team are always happy to help and can be contacted on 01642 525199 or by emailing [email protected] - you can also tell us about your access requirements when prompted to do so during the online booking process.