No tickets are currently available.
Dynamic Pricing
ARC's policy is to set ticket prices based on demand, like budget airlines, which means we set a price when the event goes on sale and then sometimes put the price up or down depending on how the show is selling. Usually, the price will increase as we get closer to the event, so it is advantageous to book in advance, although sometimes we will put special offers on and reduce the price. Our website will always show the current ticket price.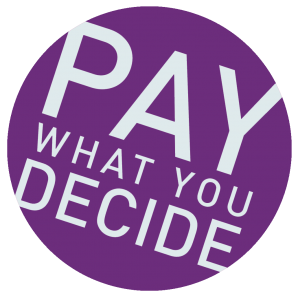 ARC's theatre and dance performances are priced on a Pay What You Decide basis, which means you don't have to pay until after you have seen a show!
We want to encourage more people to come and see shows at ARC, more often. Pay What You Decide not only allows you to pay what you can afford, rather than a fixed ticket price, but also removes the financial risk of buying a ticket for a show in advance without knowing whether you are going to enjoy it or not.
Tickets are available to book in advance as usual, but there is no obligation for you to pay until after you have seen the show. You can then decide on a price which you think is suitable based on your experience, which means if you haven't enjoyed it at all, you don't have to pay anything.
All money collected will help ARC pay the artists who have performed, and we therefore hope you will give generously.
Please ensure you have arrived and collected your tickets 15 minutes before the show starts in order to secure your seats. At the end of the show, you can decide what to pay, either by cash on the door or by card at the Box Office.
General Prices: £4
Duration: 2hrs
An entirely new workshop event comes to ARC, courtesy of Cath and Phil Tyler – who are playing a show here later in the evening. 
Sacred Harp singing is a tradition of sacred choral music that originated in New England and was later taken to the American South of the United States. The name is derived from The Sacred Harp, an historically important tunebook printed in shape notes.
Sacred Harp music represents one branch of an older tradition of American music that developed over the eighteenth and nineteenth centuries. 
Sacred Harp music is performed a cappella (voice only, without instruments) and no musical knowledge or singing training is required to join in. 
Cath and Phil Tyler play Anglo-American folk music using guitar, banjo, voice and fiddle. Cath was a member of the band Cordelia's Dad when she lived in Massachusetts, USA, in the 1990s. Phil, from Newcastle upon Tyne, UK, has played in various folk, rock and ceilidh bands for many years. Coming together musically through a shared love of traditional narrative song, Sacred Harp singing and sparse mountain banjo, they have performed on stages as diverse as the Royal Opera House in London, and Morden Tower on the old city walls of Newcastle. 
A joint ticket for the workshop and the evening concert is available at a special price of just £10. Please contact our Box Office for more details.