No tickets are currently available.
Dynamic Pricing
ARC's policy is to set ticket prices based on demand, like budget airlines, which means we set a price when the event goes on sale and then sometimes put the price up or down depending on how the show is selling. Usually, the price will increase as we get closer to the event, so it is advantageous to book in advance, although sometimes we will put special offers on and reduce the price. Our website will always show the current ticket price.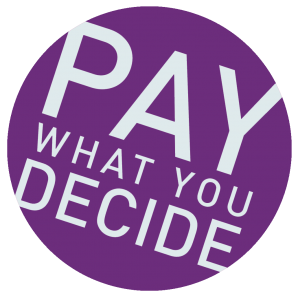 ARC's theatre and dance performances are priced on a Pay What You Decide basis, which means you don't have to pay until after you have seen a show!
We want to encourage more people to come and see shows at ARC, more often. Pay What You Decide not only allows you to pay what you can afford, rather than a fixed ticket price, but also removes the financial risk of buying a ticket for a show in advance without knowing whether you are going to enjoy it or not.
Tickets are available to book in advance as usual, but there is no obligation for you to pay until after you have seen the show. You can then decide on a price which you think is suitable based on your experience, which means if you haven't enjoyed it at all, you don't have to pay anything.
All money collected will help ARC pay the artists who have performed, and we therefore hope you will give generously.
Please ensure you have arrived and collected your tickets 15 minutes before the show starts in order to secure your seats. At the end of the show, you can decide what to pay, either by cash on the door or by card at the Box Office.
General Prices: £12 Students: £10 Over 60s: £10
Seating: Reserved seated
An evening of childhood trauma at ARC with the writers of this sensational hit book!
Did you spend your childhood being traumatised by Worzel Gummidge, Hartley Hare, Children of the Stones and the Spirit of Dark and Lonely Water? Were you terrified of the Usborne Book of Ghosts in your school library, given nightmares by Horror Top Trumps and Game of Jaws, and then handed a Dalek's Death Ray lolly to calm you down?
The children who grew up in the 1970s and 1980s were placed in the unenviable position of being scared by virtually everything. In this show, Liverpool writers Stephen Brotherstone and Dave Lawrence – the men behind the superb 'Scarred For Life' book – will be giving a hilarious talk about the TV, films, music, comics, board games, books, adverts and crisps (no, really) that blighted all of our childhoods. All accompanied by a slide show of some of their most potent childhood fears! There'll be explicit talk about the giant spiders from Doctor Who, discussion of the bloodthirsty ending to Blake's 7, a rummage through the gruesome Public Information Films that haunted all of our nightmares… and even a Top 10 Chart Countdown of the best British hit singles to be inspired by the prospect of impending nuclear armageddon.
And, afterwards, there'll be a Q&A and discussion – so feel free to chip in with your own memories of retro childhood trauma!
Stephen and Dave's incredible Scarred For Life book was published in 2017, and became a huge hit. It is, essentially, a gigantic compendium of everything that terrified a generation of British kids during these extraordinary decades… from appallingly graphic kids' TV to violent comics (and Monster Fun), post-apocalyptic cinema, shocking sitcoms and a boom in paranormal news coverage! This, lest we forget, was the era when respectable BBC1 news programmes would run regular features on poltergeists, UFOs and the Loch Ness Monster. Not to mention Nationwide's epoch-defining coverage of the 'Hexham Heads' and their accompanying werewolf…
So come and join us at ARC for the ultimate celebration of vintage terror! You are – of course – at liberty to watch from behind your fingers, although sadly we're unable to provide a sofa to hide behind. And the evening will be hosted by writer and broadcaster Bob Fischer, who spent the entirety of 1978 convinced that his family dog had rabies after glimpsing an appallingly irresponsible poster next to the headmaster's office door in his primary school reception.