Dynamic Pricing
ARC's policy is to set ticket prices based on demand, like budget airlines, which means we set a price when the event goes on sale and then sometimes put the price up or down depending on how the show is selling. Usually, the price will increase as we get closer to the event, so it is advantageous to book in advance, although sometimes we will put special offers on and reduce the price. Our website will always show the current ticket price.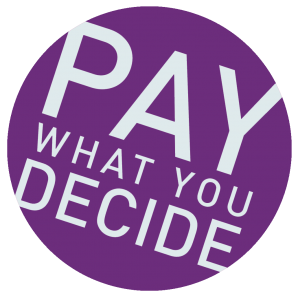 ARC's theatre and dance performances are priced on a Pay What You Decide basis, which means you don't have to pay until after you have seen a show!
We want to encourage more people to come and see shows at ARC, more often. Pay What You Decide not only allows you to pay what you can afford, rather than a fixed ticket price, but also removes the financial risk of buying a ticket for a show in advance without knowing whether you are going to enjoy it or not.
Tickets are available to book in advance as usual, but there is no obligation for you to pay until after you have seen the show. You can then decide on a price which you think is suitable based on your experience, which means if you haven't enjoyed it at all, you don't have to pay anything.
All money collected will help ARC pay the artists who have performed, and we therefore hope you will give generously.
Please ensure you have arrived and collected your tickets 15 minutes before the show starts in order to secure your seats. At the end of the show, you can decide what to pay, either by cash on the door or by card at the Box Office.
Salvagem is a Portuguese word that can be loosely translated as jungle/free/woodland/primitive et al. 
The artist was born in Portuguese West Africa, now Angola, from where, prior to the outbreak of the Colonial Wars, she and her family returned to Portugal and settled there. It was here she attended school, excelling in arts, and then completing her training as a nurse in the U.K.
She worked in the NHS hospitals until her recent retirement, when she made her home in the North East of England, seeking a quieter life among friends, both old and new. But life was not to be quite what she has expected with the outbreak of the Covid 19 Pandemic.
It was during this time Maria's interest in art was reignited. It had always been her dream to be an artist, but like so many, her family and her work had to come first. Now, the new life of Lockdowns, Self-Isolation and Bubbles gave her the time and freedom to fulfil her dream. This took her into the world of experimental abstract art with its freedom and spontaneity, allowing a non-representational expression of the creative unconsciousness, using colour and texture in a variety of techniques.
Deciding to work in acrylic, it was not long before she was discovering her own experimental methods and techniques in the application of paint to canvas. There was to be no dilution of the paint, applying a base colour directly on to the canvas and then, using a variety of tools to create texture, interspersed with almost transparent areas and intricate detailing. The works she produced, 'just came' as she put it. There is no image in mind other than a desire to do 'something' with the canvas and the palette of colours she has chosen. The lack of deliberate intention, perhaps, produces a visual representation of memories, or maybe not!
Unusually, she works with the canvas on the floor, whilst she stands above it. For her, the view she has looking down on to the work produces a more intimate relationship with the canvas and the paint, allowing her to manipulate colours and shades to her satisfaction. The technique allows her to fully express her creative unconsciousness with the rapid, dynamic and exuberant application of paint creating volume, texture and depth. There is also a delicate imagery among the fluid shapes, producing areas of quiet, almost meditative imagery.
The detailing, not always immediately obvious at first sight, is achieved with the use of techniques such as dabbing, sgraffito, finger painting, in fact using anything that will bring about the desired effect. Her work is characterised by a brilliant use of colour and then, often hidden, details. She knows when a painting is finished because 'it tells her'. Then it is complete.
Both for her, and the viewer, the works are an adventure into an unknown world, it is about providing an intangible and emotional experience – different for every individual. Let each painting reach out to you, as in the words of one of the leading figures of the Abstract Expressionism, Ashile Gorky:
"Abstraction allows us to see with our own minds
what we cannot see physically without eyes.
It is the emancipation of the mind.
An exploration into unknown areas"