No tickets are currently available.
Dynamic Pricing
ARC's policy is to set ticket prices based on demand, like budget airlines, which means we set a price when the event goes on sale and then sometimes put the price up or down depending on how the show is selling. Usually, the price will increase as we get closer to the event, so it is advantageous to book in advance, although sometimes we will put special offers on and reduce the price. Our website will always show the current ticket price.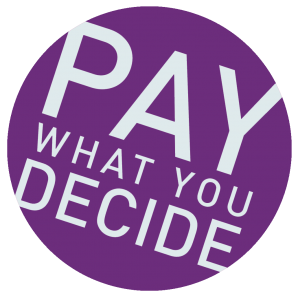 ARC's theatre and dance performances are priced on a Pay What You Decide basis, which means you don't have to pay until after you have seen a show!
We want to encourage more people to come and see shows at ARC, more often. Pay What You Decide not only allows you to pay what you can afford, rather than a fixed ticket price, but also removes the financial risk of buying a ticket for a show in advance without knowing whether you are going to enjoy it or not.
Tickets are available to book in advance as usual, but there is no obligation for you to pay until after you have seen the show. You can then decide on a price which you think is suitable based on your experience, which means if you haven't enjoyed it at all, you don't have to pay anything.
All money collected will help ARC pay the artists who have performed, and we therefore hope you will give generously.
Please ensure you have arrived and collected your tickets 15 minutes before the show starts in order to secure your seats. At the end of the show, you can decide what to pay, either by cash on the door or by card at the Box Office.
General Prices: £15 / £13 Student + £0.10 booking fee per ticket
Seating: Reserved seated
Ages: 16+
Shappi presents England's unsung heroine, Emma Hamilton. For too many years she has been known as just 'Nelson's mistress', and a bit of a harlot. (You get ONE job in a brothel and bang goes your reputation.) Women's lib wasn't a 'thing' in Georgian times, Emma moved mountains to haul herself from 'scullery maid' to 'Lady Hamilton'.
Yes, she occasionally danced on tables naked to get ahead in life, but who hasn't? As a fellow naked dancer on tables, Shappi is inspired by Emma, although she never wants hair big enough to house mice in.
'She has plenty to say, and says it with pointedness and potency' – The Guardian
Star of Live at the Apollo, Michael McIntyre's Comedy Roadshow, Friday Night with Jonathan Ross, Have I Got News for You and Q.I, Shappi is on the road with her new sell out show. She has whip-crack jokes and is effortlessly funny as she handles every subject with a razor-sharp wit, softened only by her deliciously mischievous delivery and endless charm.
Shappi is also the acclaimed author of A Beginners Guide to Acting English, and fantastic debut novel Nina is not OK.  She is also the president of the British Humanist society.
We're impressed!
'Seriously funny and surprisingly filthy' – The New Statesman
'Makes live comedy thrilling' – London Evening Standard
Belly laughs aren't as good on an empty stomach!
You don't want to worry about your rumbling tummy heckling your favourite act. With a range of pre-show dining options at No 60 you won't have to.
Eat in our modern cafe bar and indulge in a filling meal from our menu, with something to suit any appetite. Our bistro menu has a new range of special dishes every month, and uses the best seasonal ingredients.
Contact a member of the No 60 team via [email protected] today to reserve your table.