No tickets are currently available.
Dynamic Pricing
ARC's policy is to set ticket prices based on demand, like budget airlines, which means we set a price when the event goes on sale and then sometimes put the price up or down depending on how the show is selling. Usually, the price will increase as we get closer to the event, so it is advantageous to book in advance, although sometimes we will put special offers on and reduce the price. Our website will always show the current ticket price.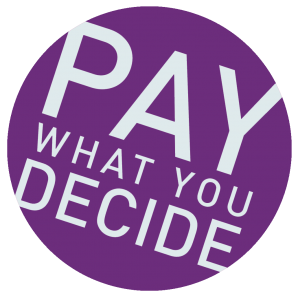 ARC's theatre and dance performances are priced on a Pay What You Decide basis, which means you don't have to pay until after you have seen a show!
We want to encourage more people to come and see shows at ARC, more often. Pay What You Decide not only allows you to pay what you can afford, rather than a fixed ticket price, but also removes the financial risk of buying a ticket for a show in advance without knowing whether you are going to enjoy it or not.
Tickets are available to book in advance as usual, but there is no obligation for you to pay until after you have seen the show. You can then decide on a price which you think is suitable based on your experience, which means if you haven't enjoyed it at all, you don't have to pay anything.
All money collected will help ARC pay the artists who have performed, and we therefore hope you will give generously.
Please ensure you have arrived and collected your tickets 15 minutes before the show starts in order to secure your seats. At the end of the show, you can decide what to pay, either by cash on the door or by card at the Box Office.
General Prices: £22.50 + £0.10 booking fee
Seating: Unreserved seated
Show of Hands join forces with long-term friend and collaborator Richard Shindell to present their very own transatlantic 'Special Relationship' show this spring. Hailing from New Jersey and now a resident of Buenos Aires, Shindell writes flawless, vivid songs that paint pictures and tell stories. Along with a selection of their own material, Steve and Phil will join Richard to add their sparkle on songs such as 'You Stay Here', 'Reunion Hill' and 'Next Best Western'. From the Great War to the Civil War, from Bristol to Baltimore, expect a moving Anglo/American exchange of songs of the road, history and the heart.
Cormac Byrne and Adam Summerhayes will be supporting Show of Hands on a select number of gigs on the upcoming Duo tour. Richard Shindell will remain as Special Guest on these gigs.