No tickets are currently available.
Dynamic Pricing
ARC's policy is to set ticket prices based on demand, like budget airlines, which means we set a price when the event goes on sale and then sometimes put the price up or down depending on how the show is selling. Usually, the price will increase as we get closer to the event, so it is advantageous to book in advance, although sometimes we will put special offers on and reduce the price. Our website will always show the current ticket price.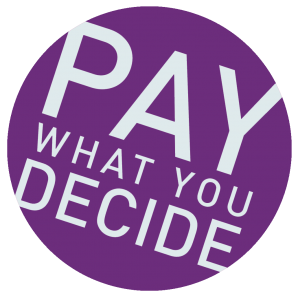 ARC's theatre and dance performances are priced on a Pay What You Decide basis, which means you don't have to pay until after you have seen a show!
We want to encourage more people to come and see shows at ARC, more often. Pay What You Decide not only allows you to pay what you can afford, rather than a fixed ticket price, but also removes the financial risk of buying a ticket for a show in advance without knowing whether you are going to enjoy it or not.
Tickets are available to book in advance as usual, but there is no obligation for you to pay until after you have seen the show. You can then decide on a price which you think is suitable based on your experience, which means if you haven't enjoyed it at all, you don't have to pay anything.
All money collected will help ARC pay the artists who have performed, and we therefore hope you will give generously.
Please ensure you have arrived and collected your tickets 15 minutes before the show starts in order to secure your seats. At the end of the show, you can decide what to pay, either by cash on the door or by card at the Box Office.
General Prices: £3 + £0.10 booking fee
Duration: 1hr 30mins
Silver Singers is an informal singing group aimed at people over 50 who are looking to improve their confidence, breathing and general health while they find their new hobby, and new friends!
No previous experience is necessary to join Silver Singers and you don't need to be able to read music. There is no audition required to join the group and people of all skill levels are welcome!
Session Structure
10 mins – Physical & Vocal warm up: exercises, games and easy rounds
20 mins – learn a new song
10 mins – Break
30 mins – Review new song & good old sing song of precious song for remainder of session
At the classes you will usually learn a new song each week, which joins your collection in your personal song folder. You will be practicing for regular performances in local venues and around the community.
Singing has a significant amount of health benefits such as strengthening the immune system, improving posture and helping with sleep.
It can be a natural anti-depressant as singing is known to release endorphins – the feel-good brain chemical that makes you feel uplifted and happy.
ARC's Silver Programme is supported by a Cultural Volunteers scheme which helps participants to attend and participate in over 50s activity.  For more information and to meet our current volunteers, please click here.
Looking for a lovely cuppa after your weekly session?
We have plenty of space at No 60 for you to pop your feet up and recharge those creative batteries over a cuppa after your singers session. Choose from a delicious selection of coffees and speciality teas, not to mention a truly delectable range of, cakes, scones and other snacks.
You can reserve a table by contacting the No 60 team via [email protected] now.