No tickets are currently available.
Running time: 77 mins
Dynamic Pricing
ARC's policy is to set ticket prices based on demand, like budget airlines, which means we set a price when the event goes on sale and then sometimes put the price up or down depending on how the show is selling. Usually, the price will increase as we get closer to the event, so it is advantageous to book in advance, although sometimes we will put special offers on and reduce the price. Our website will always show the current ticket price.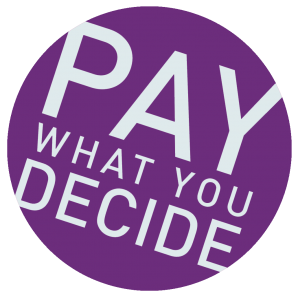 ARC's theatre and dance performances are priced on a Pay What You Decide basis, which means you don't have to pay until after you have seen a show!
We want to encourage more people to come and see shows at ARC, more often. Pay What You Decide not only allows you to pay what you can afford, rather than a fixed ticket price, but also removes the financial risk of buying a ticket for a show in advance without knowing whether you are going to enjoy it or not.
Tickets are available to book in advance as usual, but there is no obligation for you to pay until after you have seen the show. You can then decide on a price which you think is suitable based on your experience, which means if you haven't enjoyed it at all, you don't have to pay anything.
All money collected will help ARC pay the artists who have performed, and we therefore hope you will give generously.
Please ensure you have arrived and collected your tickets 15 minutes before the show starts in order to secure your seats. At the end of the show, you can decide what to pay, either by cash on the door or by card at the Box Office.
Seating: Allocated - See Seating Plan for More Details
After a devastating battle against a diabolical turtle, a team of five avengers – known as the TOBACCO FORCE – is sent on a mandatory retreat to strengthen their decaying group cohesion. Their break goes wonderfully well until Lézardin, Emperor of Evil, decides to annihilate planet Earth… But will they repair their relationship in time for a final epic battle?
From visionary director Quentin Dupieux (Rubber, Deerskin) comes an absurd and darkly hilarious superhero movie unlike any other. Starring Gilles Lellouche, Vincent Lacoste, Anaïs Demoustier, Jean-Pascal Zadi, and Oulaya Amamra.
In French with English subtitles.
Information about screenings with subtitles

Subtitled screenings offer captions which transcribe dialogue only. Subtitled screenings attempt to give D/deaf and hard-of-hearing viewers an understanding of the spoken dialogue within the film, but do not include description about other aspects of the soundtrack, including music and sound effects.

BBFC Ratings Info (May Contain Spoilers)

Violence

People are stabbed with improvised weapons in undetailed fashion, and a small axe is buried in a man's head off-screen, with sight of aftermath bloody detail. There is also mild violence in comic fights between humans and fantastical monsters.

Language

There is strong language ('f**k'), as well as milder terms such as 'whore', 'pussy', 'shit', 'bastard', 'ass', 'screw up' and 'God'.

Sex

Moderate sex references include comments about the size of a woman's breasts, "jerking off" and dying before losing one's virginity.

Suicide

There is an innocuous suicide reference.

Injury detail

A fantastical and unrealistic monster explodes in a comical shower of gore, and another creature's face is ripped off. In a darkly comic scene, a man is fed through an industrial shredder in gory fashion, but keeps insisting that he is fine, even when only his mouth is intact.

Theme

There is a passing reference to cancer.

Alcohol and tobacco

Adult characters smoke cigarettes.

Seating Accessibility Information

Cinema

Seat size

Seats in the Cinema are 45cm (172/3") wide and 46cm (18") deep, are 40cm (152/3") from the floor, and have 12cm (42/3") between seats.

Armrests

Seats in the Cinema have armrests that do not fold away, and cannot be completely removed.

Legroom

Seats in the cinema have 30cm (112/3") of legroom in front of seats, with additional legroom on row A and seats B1-B4 and B11-B14.

Further information

If you have any questions about accessibility our Box Office team are always happy to help and can be contacted on 01642 525199 or by emailing [email protected] - you can also tell us about your access requirements when prompted to do so during the online booking process.