Dynamic Pricing
ARC's policy is to set ticket prices based on demand, like budget airlines, which means we set a price when the event goes on sale and then sometimes put the price up or down depending on how the show is selling. Usually, the price will increase as we get closer to the event, so it is advantageous to book in advance, although sometimes we will put special offers on and reduce the price. Our website will always show the current ticket price.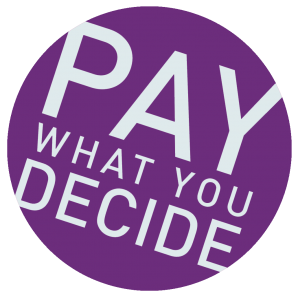 ARC's theatre and dance performances are priced on a Pay What You Decide basis, which means you don't have to pay until after you have seen a show!
We want to encourage more people to come and see shows at ARC, more often. Pay What You Decide not only allows you to pay what you can afford, rather than a fixed ticket price, but also removes the financial risk of buying a ticket for a show in advance without knowing whether you are going to enjoy it or not.
Tickets are available to book in advance as usual, but there is no obligation for you to pay until after you have seen the show. You can then decide on a price which you think is suitable based on your experience, which means if you haven't enjoyed it at all, you don't have to pay anything.
All money collected will help ARC pay the artists who have performed, and we therefore hope you will give generously.
Please ensure you have arrived and collected your tickets 15 minutes before the show starts in order to secure your seats. At the end of the show, you can decide what to pay, either by cash on the door or by card at the Box Office.
Twenty Seven Productions will be at ARC with Alistair Griffin to rehearse their upcoming production of Steel & Iron from Monday 20 – Friday 24 June 2022.
Based on a concept by Middlesbrough-born producer Katie Gibson and written by John Hoggarth, Steel & Iron follows a motley crew of people all from different backgrounds but united by Middlesbrough, and asks: "What happens to a place that is defined by its heritage and industry, when those are taken away from it?"
A music video has been released for one of the show's songs, titled Industry. It was written by the show's composer, top-ten charting Middlesbrough singer-songwriter Alistair Griffin, and Cattle and Cane, AKA brother and sister duo Joe and Helen Hammill. Paul Smith from Maximo Park has also contributed to the show.
Alistair Griffin
Alistair Griffin, a singer songwriter from the North East, has a reputation for writing songs for the nation's biggest moments.
He first came to prominence on BBC show Fame Academy with a top 20 album and hit single with Bee Gee Robin Gibb. He emerged again with a new album Albion Sky shortly after his song Just Drive entered the Top 40 after being used by the BBC to close their coverage of an exciting F1 season.
Since then his songs have been used to montage all the great British sporting events including Wimbledon, the Olympics, FA Cup and British Open golf to name just a few.
His cover of Only You was streamed to billions round the globe when once again the BBC picked Alistair's take on the Yazoo classic to montage the 2018 Royal Wedding.
He tours regularly through the UK with his live shows gaining a reputation for their raw acoustic quality and pure vocals. Alistair is the lead composer of Steel & Iron and has worked with Twenty Seven for a number of years, making him an undeniable force behind the project.
Steel & Iron will be hitting the Riverside Stadium, Middlesbrough between 11 July and 17 July this year, and tickets are available from tickets.mfc.co.uk.
Visit Twenty Seven Productions' website
Like Twenty Seven Productions on Facebook
Like Steel & Iron on Facebook
Follow Twenty Seven Productions on Twitter
Follow Twenty Seven Productions on Instagram