No tickets are currently available.
Dynamic Pricing
ARC's policy is to set ticket prices based on demand, like budget airlines, which means we set a price when the event goes on sale and then sometimes put the price up or down depending on how the show is selling. Usually, the price will increase as we get closer to the event, so it is advantageous to book in advance, although sometimes we will put special offers on and reduce the price. Our website will always show the current ticket price.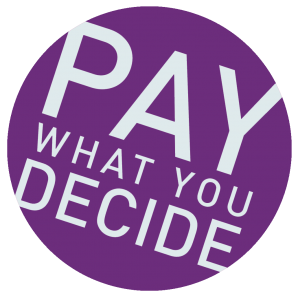 ARC's theatre and dance performances are priced on a Pay What You Decide basis, which means you don't have to pay until after you have seen a show!
We want to encourage more people to come and see shows at ARC, more often. Pay What You Decide not only allows you to pay what you can afford, rather than a fixed ticket price, but also removes the financial risk of buying a ticket for a show in advance without knowing whether you are going to enjoy it or not.
Tickets are available to book in advance as usual, but there is no obligation for you to pay until after you have seen the show. You can then decide on a price which you think is suitable based on your experience, which means if you haven't enjoyed it at all, you don't have to pay anything.
All money collected will help ARC pay the artists who have performed, and we therefore hope you will give generously.
Please ensure you have arrived and collected your tickets 15 minutes before the show starts in order to secure your seats. At the end of the show, you can decide what to pay, either by cash on the door or by card at the Box Office.
Family Comedy Fun!
We've got some of the best comedy acts from the national comedy circuit doing their funny thing for family here in Stockton… but without the rude bits! Join Howard Read (of Little Howard of CBBC fame, The Slammer), Paul Duncan McGarrity (an actual funny archaeologist!!!), Chris Betts (he's got a beard!) and our favourite family comedy compere Mr Tiernan Douieb!
Howard Read  
Howard Read is an award-winning stand-up and writer who's performed in front of the queen, all around the world and headlines and MCs clubs throughout the UK. In recent years he's been distracted by a hugely successful career in children's television; He wrote, animated and starred in three series of his own (with Little Howard), and now writes for Danger Mouse, Horrible Histories, Furchester Hotel among very many others. 
'Incredibly, achingly funny' – Daily Mail
'Breaking boundaries in stand-up comedy' – Independent
'Genius' – Radio Times
Tiernan Douieb
Tiernan Douieb is a natural compere. He's like a big tickling stick… and that's a good thing. But don't take our word for it, here are a few lovely reviews:
'This densely packed set is delivered by a comic with charm and a sweetly boyish perspective…Douieb has an accomplished and charming manner and some genuinely funny material' – Edinburgh Festivals Magazine
'Douieb has more than enough energy to go round, and he's a hugely engaging onstage presence…' – British Comedy Guide
'With this fresh style and material he blows so many other Fringe comedians out of the water' – Three Weeks 
Paul Duncan McGarrity
The UK's foremost stand-up comedian archaeologist, has a high energy, storytelling, comedic style which goes down well with all age groups. With a background in improv comedy, he has done sets at Secret Garden Party and Earls Court Community Festival and was part of the critically acclaimed Dead Man In A Box troupe. 
'Like a very tall, funny, excited child' – The Scotsman
'Practically bursting with energy… a hard act to follow' – Three Weeks 
Chris Betts
Known for being both a quick-witted MC and a superb addition to any bill, Chris Betts has received numerous plaudits for his sharp material and relaxed stage presence.  
Chris Betts' mind is a curious place, where the philosophical meets the ridiculous. His shows are a perfect balance of complete silliness that has a style that is equal parts confident, thoughtful, ridiculous and mischievous.
Top 20 Jokes of the Fringe – Telegraph
'Properly hilarious' – What's On
Part of the Stockton Stages weekend, a festival bringing a thrilling array of comedy and music talent to Stockton Town Centre between Wednesday 30 May and Saturday 2 June. Visit the Stockton Stages website for further acts and information. 
Dynamic Pricing
We set ticket prices based on demand; the price can go up or down depending on how well a show is selling. The price will usually increase closer to the event date, so we always recommend booking in advance to take advantage of best price. You can read more about our dynamic pricing policy here.