No tickets are currently available.
Running time: 1 hour
Dynamic Pricing
ARC's policy is to set ticket prices based on demand, like budget airlines, which means we set a price when the event goes on sale and then sometimes put the price up or down depending on how the show is selling. Usually, the price will increase as we get closer to the event, so it is advantageous to book in advance, although sometimes we will put special offers on and reduce the price. Our website will always show the current ticket price.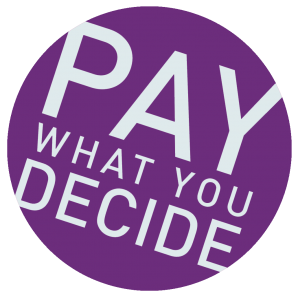 ARC's theatre and dance performances are priced on a Pay What You Decide basis, which means you don't have to pay until after you have seen a show!
We want to encourage more people to come and see shows at ARC, more often. Pay What You Decide not only allows you to pay what you can afford, rather than a fixed ticket price, but also removes the financial risk of buying a ticket for a show in advance without knowing whether you are going to enjoy it or not.
Tickets are available to book in advance as usual, but there is no obligation for you to pay until after you have seen the show. You can then decide on a price which you think is suitable based on your experience, which means if you haven't enjoyed it at all, you don't have to pay anything.
All money collected will help ARC pay the artists who have performed, and we therefore hope you will give generously.
Please ensure you have arrived and collected your tickets 15 minutes before the show starts in order to secure your seats. At the end of the show, you can decide what to pay, either by cash on the door or by card at the Box Office.
Part of the Our Stomping Grounds Festival 
BSL interpreted
​Celebrating local talent in style, Stomp! is a cabaret packed full of music, dance, poetry, drama, comedy. The cabaret stars local learning disabled artists who help bring our two day festival celebrating learning disability culture to a close. It's going to be fantastic.
Our cabaret artists are:
The Feisty Girls from Hartlepool doing a couple of songs
The amazing Emily Wilkinson singing solo
The brilliant Megan Rees reading some of her poetry
A meaningful drama vignette – Life With A Learning Disability – from the excellent JIGSAW theatre
An incredible piano solo from Stephen
An original dance mash up from Full Circle
And a rousing set from local band Jam Buddies
Nothing will make you feel as entertained and uplifted as this cabaret so get your tickets soon to avoid disappointment. Seating is limited to the first four rows in the theatre.
*Jigsaw Theatre – Life with a learning disability –
In this short scene we follow two young men and their families throughout their child hood. The scene focuses on barriers faced and what life is like for a person with a learning disability growing up.
We explore the importance of the right support and how with and without this it can affect us throughout our life.
With the right support we can find our sense of belonging and achieve our goals.
Content Awareness – please note that to reflect the real experiences of learning disabled people there is some use of discriminatory language used against learning disabled people. It is important for the group to share things from their perspective.
Booking – please click on the 'Book Now' button on this page to book for the Stomp! Cabaret on its own, or to obtain a Festival Pass that includes tickets for the Stomp! Cabaret, the Stomping Ground theatre show, and the ARCtic Piranha Daytime Rave, please click here.