Dynamic Pricing
ARC's policy is to set ticket prices based on demand, like budget airlines, which means we set a price when the event goes on sale and then sometimes put the price up or down depending on how the show is selling. Usually, the price will increase as we get closer to the event, so it is advantageous to book in advance, although sometimes we will put special offers on and reduce the price. Our website will always show the current ticket price.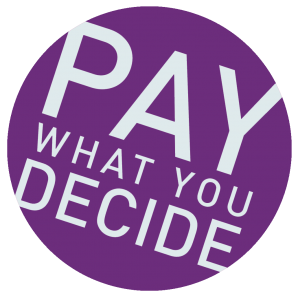 ARC's theatre and dance performances are priced on a Pay What You Decide basis, which means you don't have to pay until after you have seen a show!
We want to encourage more people to come and see shows at ARC, more often. Pay What You Decide not only allows you to pay what you can afford, rather than a fixed ticket price, but also removes the financial risk of buying a ticket for a show in advance without knowing whether you are going to enjoy it or not.
Tickets are available to book in advance as usual, but there is no obligation for you to pay until after you have seen the show. You can then decide on a price which you think is suitable based on your experience, which means if you haven't enjoyed it at all, you don't have to pay anything.
All money collected will help ARC pay the artists who have performed, and we therefore hope you will give generously.
Please ensure you have arrived and collected your tickets 15 minutes before the show starts in order to secure your seats. At the end of the show, you can decide what to pay, either by cash on the door or by card at the Box Office.
It feels like you've finally forged your own Stomping Ground, and the wider world is beginning to accept you, so a sense of belonging begins to grow. But then the world is turned upside down in every way imaginable and no one can fix it. Full Circle invites you into a lesser-seen world of lesser-told stories, revealing that the communities we create can be magical. Theirs is a story about the fight for a rightful place for learning disabled people told with wit, pathos, and celebration, using their signature visual style, triumphantly translating to outdoor work for the first time in this world premiere.
A Little Cog and Full Circle Production in Association with ARC Stockton.
Public Performances at Stockton International Riverside Festival (Trinity Green) at 9.10pm on Friday 5 and Saturday 6 August 2022.
For ease of audience access, Stomping Ground is a ticketed show. Both seated and standing tickets are limited and will be available to collect from SIRF Central (Enjoy Stockton-on-Tees Visitor Information Shop, Stockton High Street) from Thursday 4 August from 9.30am. If required, tickets can be reserved over the phone by calling SIRF Central on 01642 528130
When reserving your tickets please let us know of any special access requirements.
(Tickets for the Full Circle Participation Workshop on Saturday 6 August, 3pm-3.45pm will also be available to collect from SIRF Central (Enjoy Stockton-on-Tees Visitor Information Shop, Stockton High Street) from Thursday 4 August from 9.30am.)
Access information:
This show is BSL interpreted and captioned.
This show is on a tarmac surface and is wheelchair accessible.
For information on car parking visit the Your SIRF Visit page.
Sensory Content Awareness:
This is a very visual show with a musical soundtrack throughout. In one section there is multiple sirens (19 minutes & 30 seconds in for 1 min), plus 2 loud bangs in the last track (approx 37 minutes in). There are also moving lights but no flashing lights.
Themes:
Pandemic, Isolation, Staying Connected, Triumph