No tickets are currently available.
Dynamic Pricing
ARC's policy is to set ticket prices based on demand, like budget airlines, which means we set a price when the event goes on sale and then sometimes put the price up or down depending on how the show is selling. Usually, the price will increase as we get closer to the event, so it is advantageous to book in advance, although sometimes we will put special offers on and reduce the price. Our website will always show the current ticket price.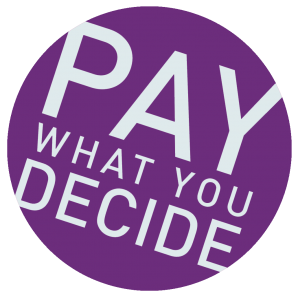 ARC's theatre and dance performances are priced on a Pay What You Decide basis, which means you don't have to pay until after you have seen a show!
We want to encourage more people to come and see shows at ARC, more often. Pay What You Decide not only allows you to pay what you can afford, rather than a fixed ticket price, but also removes the financial risk of buying a ticket for a show in advance without knowing whether you are going to enjoy it or not.
Tickets are available to book in advance as usual, but there is no obligation for you to pay until after you have seen the show. You can then decide on a price which you think is suitable based on your experience, which means if you haven't enjoyed it at all, you don't have to pay anything.
All money collected will help ARC pay the artists who have performed, and we therefore hope you will give generously.
Please ensure you have arrived and collected your tickets 15 minutes before the show starts in order to secure your seats. At the end of the show, you can decide what to pay, either by cash on the door or by card at the Box Office.
General Prices: Pay What You Decide
Seating: Unreserved seated
Following the success of the launch last year, the Stories of Sanctuary community project returns to the North East! An emotive and poignant show of original songs written and performed by those with experience of seeking sanctuary, linking the past with the present. Drawing on Durham's rich history of offering sanctuary – from the arrival of an exiled monastic community seeking sanctuary from the Vikings to modern stories of fleeing the civil war in Syria – Stories of Sanctuary warmly invites you into the project that inspired infectious friendships as well as deeply beautiful songs.
Stories of Sanctuary is made up of the Sanctuary Seekers Choir, featuring the National Syrian Orchestra's Raghad Haddad along with the project's curator and singer-songwriter Sam Slatcher. The project was rated 9/10 at its sold-out premiere at Durham Cathedral in October 2018 and the choir performed an exclusive set in the Houses of Parliament with partner organisation City of Sanctuary in November 2018.
"Timely, emotional and beautiful" (Sean Cooney, The Young'uns)
"Stories of Sanctuary speaks loudly of hope in the midst of difficulty and hardship, light in the midst of dark and dangerous times. As you journey with Sam and his co-collaborators through Stories of Sanctuary you will experience great beauty, peace and musical depth" (Gareth Davies-Jones)