No tickets are currently available.
Dynamic Pricing
ARC's policy is to set ticket prices based on demand, like budget airlines, which means we set a price when the event goes on sale and then sometimes put the price up or down depending on how the show is selling. Usually, the price will increase as we get closer to the event, so it is advantageous to book in advance, although sometimes we will put special offers on and reduce the price. Our website will always show the current ticket price.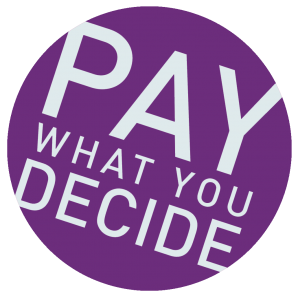 ARC's theatre and dance performances are priced on a Pay What You Decide basis, which means you don't have to pay until after you have seen a show!
We want to encourage more people to come and see shows at ARC, more often. Pay What You Decide not only allows you to pay what you can afford, rather than a fixed ticket price, but also removes the financial risk of buying a ticket for a show in advance without knowing whether you are going to enjoy it or not.
Tickets are available to book in advance as usual, but there is no obligation for you to pay until after you have seen the show. You can then decide on a price which you think is suitable based on your experience, which means if you haven't enjoyed it at all, you don't have to pay anything.
All money collected will help ARC pay the artists who have performed, and we therefore hope you will give generously.
Please ensure you have arrived and collected your tickets 15 minutes before the show starts in order to secure your seats. At the end of the show, you can decide what to pay, either by cash on the door or by card at the Box Office.
Seating: Allocated - See Seating Plan for More Details
It was 1969 – the same summer as Woodstock – and for six consecutive Sundays, an outdoor celebration of black music and culture took place in the New York City neighbourhood of Harlem. More than 40 hours of performances from dozens of artists were recorded, then languished in a basement for nearly 50 years.
They were marvelously programmed to highlight different avenues of black music, from Motown pop to jazz to Afrobeat to gospel to psychedelic funk. The performers were all thrilled to play in the heart of Harlem, and witnesses reported that they'd never seen such a large gathering of black people in one spot before. The NYPD presence was minimized, and Black Panthers provided security for the talent.
Director Ahmir (Questlove) Thompson puts the concerts in the context of that moment of social unrest and change. There are great concert movies and great socio-political documentaries, but Summer of Soul combines both in one gloriously entertaining and intellectually astute film.