No tickets are currently available.
Dynamic Pricing
ARC's policy is to set ticket prices based on demand, like budget airlines, which means we set a price when the event goes on sale and then sometimes put the price up or down depending on how the show is selling. Usually, the price will increase as we get closer to the event, so it is advantageous to book in advance, although sometimes we will put special offers on and reduce the price. Our website will always show the current ticket price.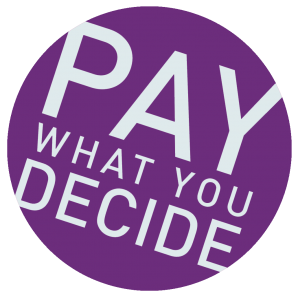 ARC's theatre and dance performances are priced on a Pay What You Decide basis, which means you don't have to pay until after you have seen a show!
We want to encourage more people to come and see shows at ARC, more often. Pay What You Decide not only allows you to pay what you can afford, rather than a fixed ticket price, but also removes the financial risk of buying a ticket for a show in advance without knowing whether you are going to enjoy it or not.
Tickets are available to book in advance as usual, but there is no obligation for you to pay until after you have seen the show. You can then decide on a price which you think is suitable based on your experience, which means if you haven't enjoyed it at all, you don't have to pay anything.
All money collected will help ARC pay the artists who have performed, and we therefore hope you will give generously.
Please ensure you have arrived and collected your tickets 15 minutes before the show starts in order to secure your seats. At the end of the show, you can decide what to pay, either by cash on the door or by card at the Box Office.
17-year-old Suzume's journey begins in a quiet town in Kyushu when she encounters a young man who tells her, "I'm looking for a door." What Suzume finds is a single weathered door standing upright in the midst of ruins as though it was shielded from whatever catastrophe struck. Seemingly drawn by its power, Suzume reaches for the knob…. Doors begin to open one after another all across Japan, unleashing destruction upon any who are near. Suzume must close these portals to prevent further disaster. The stars. The sunset. The morning sky. Within that realm, it was as though all time had melted together in the sky–guided by these mysterious doors, Suzume's journey to close doors is about to begin.
In Japanese with English Subtitles.
The screening on Thu 11 May at 2pm is relaxed for people living with dementia.
Director
Makoto Shinkai
Cast
Nanoka Hara, Hokuto Matsumura, Kana Hanazawa, Ryûnosuke Kamiki, Eri Fukatsu