No tickets are currently available.
Dynamic Pricing
ARC's policy is to set ticket prices based on demand, like budget airlines, which means we set a price when the event goes on sale and then sometimes put the price up or down depending on how the show is selling. Usually, the price will increase as we get closer to the event, so it is advantageous to book in advance, although sometimes we will put special offers on and reduce the price. Our website will always show the current ticket price.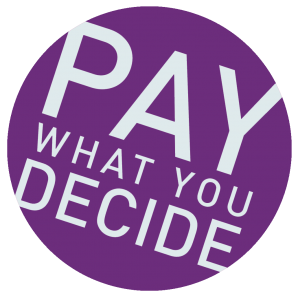 ARC's theatre and dance performances are priced on a Pay What You Decide basis, which means you don't have to pay until after you have seen a show!
We want to encourage more people to come and see shows at ARC, more often. Pay What You Decide not only allows you to pay what you can afford, rather than a fixed ticket price, but also removes the financial risk of buying a ticket for a show in advance without knowing whether you are going to enjoy it or not.
Tickets are available to book in advance as usual, but there is no obligation for you to pay until after you have seen the show. You can then decide on a price which you think is suitable based on your experience, which means if you haven't enjoyed it at all, you don't have to pay anything.
All money collected will help ARC pay the artists who have performed, and we therefore hope you will give generously.
Please ensure you have arrived and collected your tickets 15 minutes before the show starts in order to secure your seats. At the end of the show, you can decide what to pay, either by cash on the door or by card at the Box Office.
General Prices: £5
Duration: 1hr 30mins
Join this beginner friendly class to learn to social dance, get fit, meet new friends and laugh!
Who is it for?
This class is for anyone with an interest in dance aged 18+; the class is designed for beginners but all abilities are welcome.
What is Swing Dance?
Swing Dance comes from the swing jazz era of the 1920s to the 1940s, it's a catch all name for the hundreds of kinds of dance that developed during the era. Swing Dance at ARC is led by Angeline, who focuses on Lindy Hop and Charleston social dance styles – 2 of the most popular dance styles to emerge within Swing Dance. Expect to learn fancy footwork for lots of fun, energetic numbers in this class!
What do I need to bring?
Make sure you wear clothing and footwear suitable for physical activity. Shoes that allow your feet to slide are ideal for this class and you may also want to bring along a bottle of water. You don't need to come with a partner and you can join at any time!
(Excluding Mon 29 Oct)
Angeline is from 6th Street Swing, bringing the joy of dancing to swing music to Stockton and Darlington. Angeline tailors the classes in 6 week blocks of foot work and styles to ensure everyone can continue to develop their skills whilst being introduced to new moves. To check out the theme and focus for the current classes check 6th Street Swing out here: 6th Street Swing
Angeline is super supportive and knowledgeable on all things Swing, so join her here at ARC to begin your Swing Dance journey!