No tickets are currently available.
Pay What You Decide Info
Dynamic Pricing
ARC's policy is to set ticket prices based on demand, like budget airlines, which means we set a price when the event goes on sale and then sometimes put the price up or down depending on how the show is selling. Usually, the price will increase as we get closer to the event, so it is advantageous to book in advance, although sometimes we will put special offers on and reduce the price. Our website will always show the current ticket price.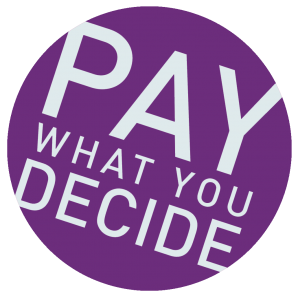 ARC's theatre and dance performances are priced on a Pay What You Decide basis, which means you don't have to pay until after you have seen a show!
We want to encourage more people to come and see shows at ARC, more often. Pay What You Decide not only allows you to pay what you can afford, rather than a fixed ticket price, but also removes the financial risk of buying a ticket for a show in advance without knowing whether you are going to enjoy it or not.
Tickets are available to book in advance as usual, but there is no obligation for you to pay until after you have seen the show. You can then decide on a price which you think is suitable based on your experience, which means if you haven't enjoyed it at all, you don't have to pay anything.
All money collected will help ARC pay the artists who have performed, and we therefore hope you will give generously.
Please ensure you have arrived and collected your tickets 15 minutes before the show starts in order to secure your seats. At the end of the show, you can decide what to pay, either by cash on the door or by card at the Box Office.
In 1933, as the alleys flowed people into the centre of the high street there was a tension in the air. Oswald Moseley's Blackshirts marched across the Victoria Bridge from Thornaby and into the high street in order to hold a rally and recruit new members. They spoke of fascist ideals and assumed the people of Stockton would be easy pickings for their recruitment campaign, giving up hope for hate – they were wrong.
That fateful day in September 1933 is brought to life in this new film, produced by the Battle of Stockton Campaign and featuring artworks by a number of local Teesside artists. Narrated by actor Marlene Sidaway, this dramatic documentary explores the events of the day, the actions of local people and a sample of life in 1930s Stockton.
The film will be followed by poetry, music and a panel discussion with members of The Battle of Stockton Campaign and other special guests.
Dan Smith
Hailing from Thornaby in the north of England, Daniel has written and directed a number of short films as well as two feature length documentaries, 'Young, Fit and Dying' and also 'The Directors'. The former sold across Europe, Scandinavia and the Middle East, receiving glowing reviews along the way. Daniel studied Film at Middlesex University, receiving a BA(Hons) as a scholarship student. His latest film, Interdiction, is just rounding off a festival run where it has picked up multiple selections and wins across the wold, including Rome, Mallorca and London.
Sharon Bailey
Sharon Bailey is an activist and chair of The Battle of Stockton Campaign. She co-produced The Battle of Stockton film and is currently working on a six part documentary series on the Spanish Civil War.
Harry Gallagher
Harry Gallagher, originally from Teesside, is widely published with several books to his name. He performs all over the UK and runs the Northeast stanza of the Poetry Society.
Ella-Joy
Ella-Joy is a 21 year old singer-songwriter from the industrial borough of Teesside. From rebel countesses to disappointing love interests, she draws inspiration from her own experiences and the world around her to craft unusual lyrics and skilful melodies. Ella won Folklub Newcastle's Songwriter of the year 2020 and has recently graduated from Newcastle University's Traditional and Folk Music Degree with a First Class BA (Hons).