No tickets are currently available.
Dynamic Pricing
ARC's policy is to set ticket prices based on demand, like budget airlines, which means we set a price when the event goes on sale and then sometimes put the price up or down depending on how the show is selling. Usually, the price will increase as we get closer to the event, so it is advantageous to book in advance, although sometimes we will put special offers on and reduce the price. Our website will always show the current ticket price.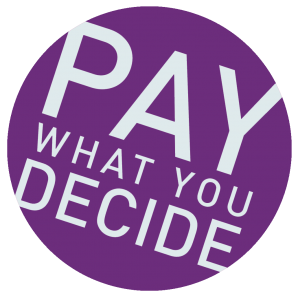 ARC's theatre and dance performances are priced on a Pay What You Decide basis, which means you don't have to pay until after you have seen a show!
We want to encourage more people to come and see shows at ARC, more often. Pay What You Decide not only allows you to pay what you can afford, rather than a fixed ticket price, but also removes the financial risk of buying a ticket for a show in advance without knowing whether you are going to enjoy it or not.
Tickets are available to book in advance as usual, but there is no obligation for you to pay until after you have seen the show. You can then decide on a price which you think is suitable based on your experience, which means if you haven't enjoyed it at all, you don't have to pay anything.
All money collected will help ARC pay the artists who have performed, and we therefore hope you will give generously.
Please ensure you have arrived and collected your tickets 15 minutes before the show starts in order to secure your seats. At the end of the show, you can decide what to pay, either by cash on the door or by card at the Box Office.
General Prices: £20 + £0.10 booking fee
Seating: Unreserved seated
Ages: 12+
The surprises and delights of ABBEY ROAD, the Beatles' final album – 50 years on
September 2019 is the golden anniversary of the Beatles' multi-platinum album Abbey Road – the last work they recorded before their seismic breakup. It was both the end of the Sixties and the end of the greatest band of all time.
To hail this anniversary, world's leading Beatles historian Mark Lewisohn is touring a theatre show of illumination, intrigue, surprises, delights, humour, excitement and entertainment – a fast-moving and smart illustrated history of our forever national-heroes the Beatles, their brilliant album Abbey Road, and other major events of that extraordinary year 1969.
Mark Lewisohn has the world's greatest archive of Beatles stuff, harvested over 40+ years of unrivalled deep access to archives and public and private collections. He will be showing audiences a stunning array of strong and relevant content, with rare music, photos, films and choice memorabilia. Audiences (even superfans) will see and hear things they didn't know existed.
Hornsey Road (that intriguing title will be explained …), tells all about how the album was made and the many momentous events that occurred during its recording, when the Beatles were joyously together inside the recording studio but falling apart outside. This was the year of their breakup, and the album was made at a time of turmoil in their personal and business lives.
Abbey Road wasn't just one of so many glorious and triumphant chapters in the Beatles' unparalleled time together, it was their best-selling and last piece of work. Audiences at Hornsey Road will be constantly grabbed by the sights and sounds that show how it all came together.
About Mark Lewisohn:
Mark Lewisohn has been writing about the Beatles since 1977, when he was nineteen, and he's the author of The Beatles Recording Sessions, The Complete Beatles Chronicle and co-author of The Beatles' London. Since 2003 he's been immersed in researching and writing All These Years, a thirty-year project to set down the complete history of it all – a comprehensive, contextual and sociological narrative of 20th century life with the Beatles at its core. According to the Boswell Biography Festival, "It's the most important biography project being written in Britain today." Tune In, the first in the trilogy (the only one released to date) was a New York Times best-seller, and in 2015 it was the inaugural winner of the Penderyn Prize for music literature, presented at the Laugharne Festival. Mark is taking a few days out to perform these live shows before getting straight back down to work on volume 2.