No tickets are currently available.
Dynamic Pricing
ARC's policy is to set ticket prices based on demand, like budget airlines, which means we set a price when the event goes on sale and then sometimes put the price up or down depending on how the show is selling. Usually, the price will increase as we get closer to the event, so it is advantageous to book in advance, although sometimes we will put special offers on and reduce the price. Our website will always show the current ticket price.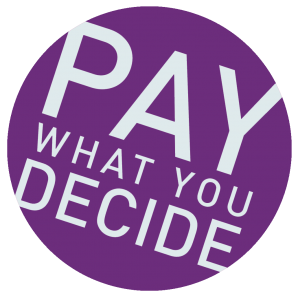 ARC's theatre and dance performances are priced on a Pay What You Decide basis, which means you don't have to pay until after you have seen a show!
We want to encourage more people to come and see shows at ARC, more often. Pay What You Decide not only allows you to pay what you can afford, rather than a fixed ticket price, but also removes the financial risk of buying a ticket for a show in advance without knowing whether you are going to enjoy it or not.
Tickets are available to book in advance as usual, but there is no obligation for you to pay until after you have seen the show. You can then decide on a price which you think is suitable based on your experience, which means if you haven't enjoyed it at all, you don't have to pay anything.
All money collected will help ARC pay the artists who have performed, and we therefore hope you will give generously.
Please ensure you have arrived and collected your tickets 15 minutes before the show starts in order to secure your seats. At the end of the show, you can decide what to pay, either by cash on the door or by card at the Box Office.
General Prices: £14 Concessions: £12 + £0.10 booking fee per ticket
Seating: Reserved seated
Regarded as a British classic, The Dam Busters is directed by Michael Anderson. Based on the legendary true story of Commander Guy Gibson and his squadron, The Dam Busters (1955) captures all the thrilling action and suspense of the magnificent exploits of a group of young pilots and their crews, charged with taking out the supposedly impenetrable Ruhr river dams of Germany with an ingeniously designed bouncing bomb.
Scientist and engineer Dr Barnes Wallis believes destroying Germany's Ruhr dams can paralyse the enemy's industrial nerve centre, thus shortening WWII. After much persuasion, permission is finally granted to develop the bombs and aircraft capable of such a task and a special squadron is drafted in to carry out the raids.
Led by dashing Air Ace Wing Commander Guy Gibson, 617 Squadron begin intense training in order to master the modified Lancaster bombers they will pilot in the raid. Unaware of their target until the day of their mission, the airmen set out on a brave and perilous journey that could change the course of the war. Back home in the Group Ops room, Wallis tensely awaits news of the mission. But did his plan succeed? And will the planes all return unscathed?
The impact of The Dam Busters on modern filmmakers spans the decades: director George Lucas hired the film's special effects photographer Gilbert Taylor to work his magic on the original Star Wars; and The Lord of the Rings director Peter Jackson has long been attached to a remake, based around a screenplay by actor/writer Stephen Fry.
Live at the Royal Albert Hall, Dan Snow is joined on stage by the Glenn Miller Orchestra plus special guests including family members of both Dam Busters crew and the film's director Michael Anderson, historian Paul Beaver and Professor Hugh Hunt as they explore the history of the iconic raid and how it led to the making of a classic British film. The audience will include former members of the iconic 617 Squadron as well as current members of the Royal Air Force. Also witness an on stage 'bouncing bomb' experiment as we reflect on the science behind Barnes Wallis' invention. This section will end with a stirring rendition of The Dam Busters March by the Glenn Miller Orchestra.