No tickets are currently available.
Pay What You Decide Info
Age: 15+
Dynamic Pricing
ARC's policy is to set ticket prices based on demand, like budget airlines, which means we set a price when the event goes on sale and then sometimes put the price up or down depending on how the show is selling. Usually, the price will increase as we get closer to the event, so it is advantageous to book in advance, although sometimes we will put special offers on and reduce the price. Our website will always show the current ticket price.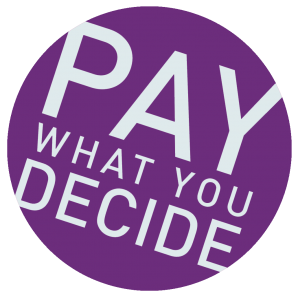 ARC's theatre and dance performances are priced on a Pay What You Decide basis, which means you don't have to pay until after you have seen a show!
We want to encourage more people to come and see shows at ARC, more often. Pay What You Decide not only allows you to pay what you can afford, rather than a fixed ticket price, but also removes the financial risk of buying a ticket for a show in advance without knowing whether you are going to enjoy it or not.
Tickets are available to book in advance as usual, but there is no obligation for you to pay until after you have seen the show. You can then decide on a price which you think is suitable based on your experience, which means if you haven't enjoyed it at all, you don't have to pay anything.
All money collected will help ARC pay the artists who have performed, and we therefore hope you will give generously.
Please ensure you have arrived and collected your tickets 15 minutes before the show starts in order to secure your seats. At the end of the show, you can decide what to pay, either by cash on the door or by card at the Box Office.
Seating: Allocated - See Seating Plan for More Details
The Northern Film Festival is the showcase for BA (Hons) Film, TV & Theatre Production as part of the ongoing partnership between The Northern School of Art and ARC. The evening is the culmination of their course and an opportunity for them to present their final films. There are five fantastic short films made by a collection of exciting young film makers featuring performances from Acting for Stage & Screen students and in collaboration with Production Design, Costume Interpretation with Design and Visual Effects and Model Making.
The evening will also include a post-screening discussion with the creative teams about their creative process.
'The Festival will be a fantastic celebration of the superb work our third year students have created. They have worked incredibly hard on these films throughout the academic year. It is a great showcase of their skill, creativity and passion for filmmaking.' – Jonny Bussell, Faculty Leader for Stage & Screen
As Far as the Eye Can See
By Sarah Webber
A short film piece about the complexities of someone's mind by exploring what the eye can't see. We follow April, a kind young woman in an unstable relationship with a deceptively sweet man named Ben, pushed to her limits by abuse and left pondering what she must do to escape it.
519
By Kieran Erdis and Eve Colpitts
A short horror film following an inquest in an underground facility. We are introduced to the gruesome aftermath of an escaped inmate and a murdered observation officer. A young trainee, Amanda, is left to explain what happened.
Making Your Acquaintance 
By Ella Patience
Making Speed Dating Deadly… But not for who you think.
Darcy and Sophia's friend is missing. When Sophia takes her place at a speed dating event, Darcy sets her up with her perfect match. As Finley and Max fight for Sophia's heart, will Sophia, Darcy and Charlotte have to fight for their lives?
Indication
Directed by Alys Lawrence
Written by Leo Bradley
Alyson is on a road-trip through the British country with an unwilling passenger in tow. Can Charlie escape his deluded chauffeur, or is his fate sealed?
The Intricate Innards of a Human Being
Directed by Kyle Flynn
Written by Erin Thompson
Adulthood friendships are hard to come by, especially for oddball Jen. Her unwavering optimism and unique world view allow her to make it through her brutal day to day at work. Jen stumbles upon her idol and writer of her favourite comic series, Harry, as a friendship starts to blossom. However, every relationship is not without its struggles. A few ill planned words leave Jen on her own once again, will she and Harry ever make amends or will Jen return to her life of mockery and misery?
The film festival will also be streaming live at 7.30pm, it will be available to watch on YouTube.