No tickets are currently available.
Running time: 2hrs 17mins
Dynamic Pricing
ARC's policy is to set ticket prices based on demand, like budget airlines, which means we set a price when the event goes on sale and then sometimes put the price up or down depending on how the show is selling. Usually, the price will increase as we get closer to the event, so it is advantageous to book in advance, although sometimes we will put special offers on and reduce the price. Our website will always show the current ticket price.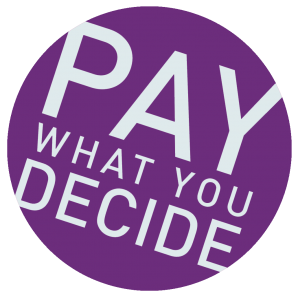 ARC's theatre and dance performances are priced on a Pay What You Decide basis, which means you don't have to pay until after you have seen a show!
We want to encourage more people to come and see shows at ARC, more often. Pay What You Decide not only allows you to pay what you can afford, rather than a fixed ticket price, but also removes the financial risk of buying a ticket for a show in advance without knowing whether you are going to enjoy it or not.
Tickets are available to book in advance as usual, but there is no obligation for you to pay until after you have seen the show. You can then decide on a price which you think is suitable based on your experience, which means if you haven't enjoyed it at all, you don't have to pay anything.
All money collected will help ARC pay the artists who have performed, and we therefore hope you will give generously.
Please ensure you have arrived and collected your tickets 15 minutes before the show starts in order to secure your seats. At the end of the show, you can decide what to pay, either by cash on the door or by card at the Box Office.
Seating: Allocated - See Seating Plan for More Details
From visionary director Robert Eggers comes The Northman, an action-filled epic that follows a young Viking prince on his quest to avenge his father's murder.
Director: Robert Eggers
Cast: Alexander Skarsgård, Nicole Kidman, Claes Bang
The screenings of The Northman on Sat 21 May at 2pm and Wed 25 May at 7.30pm will be presented with Descriptive Subtitles.
Audio Description is available with screenings of The Northman.
BBFC Ratings Info (may contain spoilers)

Sexual violence and sexual threat

There are brief moments of sexual violence including sight of women being pinned to the ground and women being chased and grabbed by men. There are also verbal references to rape. In one scene, a woman reveals her vulva – which is stained with menstrual blood – in order to deter a man from raping her. There is also a brief scene in which a woman makes unwanted sexual advances towards her adult son who quickly condemns her behaviour.

Violence

There are frequent scenes of strong bloody violence, including stabbings and decapitations. A man is repeatedly head-butted. In another scene, a man is stabbed through the nose in profile. Gore includes sight of a man falling to the ground with organs spilling from an open wound, and the brief image of the mutilated bodies of two men pinned to a hut. There are scenes in which children are killed, the implied killing of a dog, and the decapitation of a horse.

Sex

There are scenes of sex that feature buttock nudity and thrusting detail, and occasional sex references.

Nudity

There is breast, buttock and genital nudity.

People take psychotropic drugs as part of rituals. There are scenes of threat.