No tickets are currently available.
Dynamic Pricing
ARC's policy is to set ticket prices based on demand, like budget airlines, which means we set a price when the event goes on sale and then sometimes put the price up or down depending on how the show is selling. Usually, the price will increase as we get closer to the event, so it is advantageous to book in advance, although sometimes we will put special offers on and reduce the price. Our website will always show the current ticket price.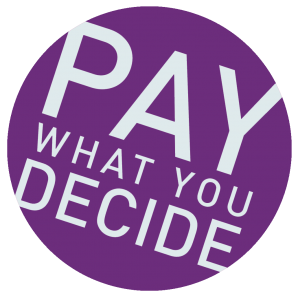 ARC's theatre and dance performances are priced on a Pay What You Decide basis, which means you don't have to pay until after you have seen a show!
We want to encourage more people to come and see shows at ARC, more often. Pay What You Decide not only allows you to pay what you can afford, rather than a fixed ticket price, but also removes the financial risk of buying a ticket for a show in advance without knowing whether you are going to enjoy it or not.
Tickets are available to book in advance as usual, but there is no obligation for you to pay until after you have seen the show. You can then decide on a price which you think is suitable based on your experience, which means if you haven't enjoyed it at all, you don't have to pay anything.
All money collected will help ARC pay the artists who have performed, and we therefore hope you will give generously.
Please ensure you have arrived and collected your tickets 15 minutes before the show starts in order to secure your seats. At the end of the show, you can decide what to pay, either by cash on the door or by card at the Box Office.
General Prices: £6 / Groups of 6 or more: £4.50 per person + £0.10 booking fee per ticket
Duration: 45mins
Seating: Reserved seated
A man excitedly waits for the guests to arrive at his party. The cake is made, the presents have arrived, and the music is playing – all he needs are his friends to make this the best birthday ever. Enter some unexpected guests: a French cyclist, a man dressed as a giant chicken and a mysterious stranger who has apparently never had a birthday. What ensues is an endlessly entertaining topsy-turvy show that humorously explores difficult topics such as sharing, social exclusion, and not always getting what you want.
A fantastically engaging, fast-paced, acrobatic circus show for young people to enjoy with the whole family … and there's even pass the parcel.
Presented by Nearly There Yet with support from Jacksons Lane.
Devised & Produced by Kaveh Rahnama
Looking for somewhere to eat on your family day out?
We know that finding a place to eat before or after a performance can add extra stress to your family day out. That's why we've put together a– menu that features some of your kids' favourites like the tasty fish fingers they love so much. Plus for the more adventurous youngsters we offer a half portion of any item from our menu for half the price, so they can enjoy the same delicious meals you do without having to share from your plate.
You can reserve a table by contacting the No 60 team via [email protected] now.
Directed by Mary Swan
Set & Costume Design: Sue Mayes
Cast: Alice Allart, Ed Stephen, Kaveh Rahnama, Tamzen Moulding