No tickets are currently available.
Pay What You Decide Info
Dynamic Pricing
ARC's policy is to set ticket prices based on demand, like budget airlines, which means we set a price when the event goes on sale and then sometimes put the price up or down depending on how the show is selling. Usually, the price will increase as we get closer to the event, so it is advantageous to book in advance, although sometimes we will put special offers on and reduce the price. Our website will always show the current ticket price.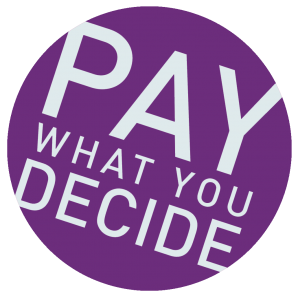 ARC's theatre and dance performances are priced on a Pay What You Decide basis, which means you don't have to pay until after you have seen a show!
We want to encourage more people to come and see shows at ARC, more often. Pay What You Decide not only allows you to pay what you can afford, rather than a fixed ticket price, but also removes the financial risk of buying a ticket for a show in advance without knowing whether you are going to enjoy it or not.
Tickets are available to book in advance as usual, but there is no obligation for you to pay until after you have seen the show. You can then decide on a price which you think is suitable based on your experience, which means if you haven't enjoyed it at all, you don't have to pay anything.
All money collected will help ARC pay the artists who have performed, and we therefore hope you will give generously.
Please ensure you have arrived and collected your tickets 15 minutes before the show starts in order to secure your seats. At the end of the show, you can decide what to pay, either by cash on the door or by card at the Box Office.
Throughout lockdown and beyond ARC Stockton and a cohort of local people from the Tees Valley will help to build The People's Palace of Possibility!
You are invited to join The People's Palace of Possibility as a Palace Citizen, to take part in an act of collective imagining and fight against the belief that change is impossible. The People's Palace of Possibility is an immersive arts project, and its story is told through the post, and through digital and/or telephone interaction.
A consensus has spread across the world that we have reached the glorious end of history. There is no room for improvement and any attempt to discuss or build any kind of alternative is stupid, and probably dangerous. However, the secretive imagineers known as 'The Network of Palace Citizens' have discovered that this consensus is blindly leading us to disaster. They know that change is needed, but what that change might look like is not always easy to see…
As a Palace Citizen you will be part of a vital resistance movement, designed to take down 'The Consensus' and their tyrannical regime of enforced happiness and unquestioning conformity. Over the course of a month you will receive a series of letters and packages, which will unfurl the mysteries of The People's Palace of Possibility and invite you to share visions for the future and commit tiny acts of resistance. Be vigilant, some of your messages will be coded and hidden, to avoid the ever-watchful eyes of The Consensus.
'It felt magical and human. I enjoyed being taken out of the day to day and being encouraged to think about the bigger picture – something increasingly difficult in these times!' A Palace Citizen, Summer 2020
The experience starts on 19 February and will run for roughly four weeks – the deadline to sign up is Fri 12 Feb 2021.
Please note: If you know someone who you think would enjoy participating in The People's Palace of Possibility but who doesn't have online access, please do pass on the details of the project! It's possible to take part by telephone too – please call our Box Office on 01642 525199 for more details.
This project is created by The Bare Project in collaboration with ARC Stockton, with support from Arts Council England, The Centre for Understanding Sustainable Prosperity and Keele University. With special thanks to the Albany, James Blakey, The Guild of Saint George, Reuben Johnson and Invisible Flock.