No tickets are currently available.
Dynamic Pricing
ARC's policy is to set ticket prices based on demand, like budget airlines, which means we set a price when the event goes on sale and then sometimes put the price up or down depending on how the show is selling. Usually, the price will increase as we get closer to the event, so it is advantageous to book in advance, although sometimes we will put special offers on and reduce the price. Our website will always show the current ticket price.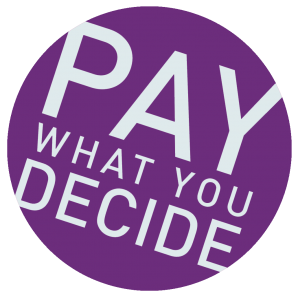 ARC's theatre and dance performances are priced on a Pay What You Decide basis, which means you don't have to pay until after you have seen a show!
We want to encourage more people to come and see shows at ARC, more often. Pay What You Decide not only allows you to pay what you can afford, rather than a fixed ticket price, but also removes the financial risk of buying a ticket for a show in advance without knowing whether you are going to enjoy it or not.
Tickets are available to book in advance as usual, but there is no obligation for you to pay until after you have seen the show. You can then decide on a price which you think is suitable based on your experience, which means if you haven't enjoyed it at all, you don't have to pay anything.
All money collected will help ARC pay the artists who have performed, and we therefore hope you will give generously.
Please ensure you have arrived and collected your tickets 15 minutes before the show starts in order to secure your seats. At the end of the show, you can decide what to pay, either by cash on the door or by card at the Box Office.
Seating: Allocated - See Seating Plan for More Details
Director
Peter Lord
Cast
Hugh Grant, Martin Freeman, David Tennant, Salma Hayek, Imelda Staunton, Brendan Gleeson
In an attempt to win the Pirate of the Year award, Pirate Captain and his crew must travel to Victorian London, take on some of the best pirates in the world and pillage the most amount of booty.
Seating Accessibility Information

Cinema

Seat size

Seats in the Cinema are 45cm (172/3") wide and 46cm (18") deep, are 40cm (152/3") from the floor, and have 12cm (42/3") between seats.

Armrests

Seats in the Cinema have armrests that do not fold away, and cannot be completely removed.

Legroom

Seats in the cinema have 30cm (112/3") of legroom in front of seats, with additional legroom on row A and seats B1-B4 and B11-B14.

Further information

If you have any questions about accessibility our Box Office team are always happy to help and can be contacted on 01642 525199 or by emailing [email protected] - you can also tell us about your access requirements when prompted to do so during the online booking process.

BBFC Ratings Info (May Contain Spoilers)

The film contains one use each of the words 'arse' and 'crap'. The BBFC's Guidelines at 'U' allow 'Infrequent use only of very mild bad language'. In the comic context in which the language is used, and in the manner in which it is delivered, these examples fall within the allowance at 'U'.

The violence is mild and mostly takes the form of slapstick routines. One character, Cutlass Liz, is shown several times stabbing sideways off-screen at other pirate victims who then groan and fall over. But there is never any blood or sight of injury or any other sense of suffering in this series of comic moments. In one sequence Pirate Captain is sentenced to be executed and kneels with his neck on a block while a masked executioner swings an axe down towards him. However, the execution is stopped at the last moment and Pirate Captain is unharmed. Jokes frequently accompany the moments of violence and threat, ensuring the action is never too intense and that the tone remains light. It is all within Guidelines at 'U' which allow 'Mild violence only. Occasional mild threat or menace only'.

The film also contains mild sexual innuendo, such as a scientist admitting that his invention is mainly useful for 'looking down ladies' tops' and Charles Darwin regretting that he may die 'without reaching second base with a lady'. In one scene Pirate Captain encounters a ship of naturists, with nudity covered by props, and a 'plague' ship where a character's arm drops off.