Dynamic Pricing
ARC's policy is to set ticket prices based on demand, like budget airlines, which means we set a price when the event goes on sale and then sometimes put the price up or down depending on how the show is selling. Usually, the price will increase as we get closer to the event, so it is advantageous to book in advance, although sometimes we will put special offers on and reduce the price. Our website will always show the current ticket price.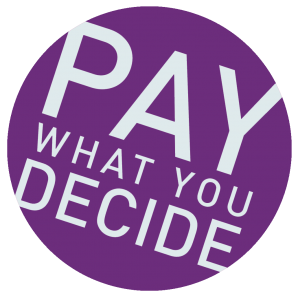 ARC's theatre and dance performances are priced on a Pay What You Decide basis, which means you don't have to pay until after you have seen a show!
We want to encourage more people to come and see shows at ARC, more often. Pay What You Decide not only allows you to pay what you can afford, rather than a fixed ticket price, but also removes the financial risk of buying a ticket for a show in advance without knowing whether you are going to enjoy it or not.
Tickets are available to book in advance as usual, but there is no obligation for you to pay until after you have seen the show. You can then decide on a price which you think is suitable based on your experience, which means if you haven't enjoyed it at all, you don't have to pay anything.
All money collected will help ARC pay the artists who have performed, and we therefore hope you will give generously.
Please ensure you have arrived and collected your tickets 15 minutes before the show starts in order to secure your seats. At the end of the show, you can decide what to pay, either by cash on the door or by card at the Box Office.
20 years ago, Susan and Charlotte Crane followed their best friend Jacob Grey into a mystery and were never seen again. The mystery of their disappearance has never truly been investigated, until now. Newly found recordings said to have been created by the missing couple may tell you, the investigators, where they were before vanishing in Stockton. Are they still out there? Did they discover the truth behind the mystery? What happened to Jacob Grey? Who or what could have caused this and why? Only you can decide what happened on the search for The Stockton Treasure.
Investigators will require an internet smartphone that has a QR scanner and headphones.
Part of the SIRF Commissions Programme in partnership with ARC Stockton.
Public Performances at Stockton International Riverside Festival (Stockton High Street – Walkabout) at 11.30am on Friday 5, Saturday 6, and Sunday 7 August 2022.