No tickets are currently available.
Dynamic Pricing
ARC's policy is to set ticket prices based on demand, like budget airlines, which means we set a price when the event goes on sale and then sometimes put the price up or down depending on how the show is selling. Usually, the price will increase as we get closer to the event, so it is advantageous to book in advance, although sometimes we will put special offers on and reduce the price. Our website will always show the current ticket price.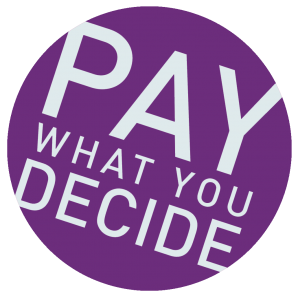 ARC's theatre and dance performances are priced on a Pay What You Decide basis, which means you don't have to pay until after you have seen a show!
We want to encourage more people to come and see shows at ARC, more often. Pay What You Decide not only allows you to pay what you can afford, rather than a fixed ticket price, but also removes the financial risk of buying a ticket for a show in advance without knowing whether you are going to enjoy it or not.
Tickets are available to book in advance as usual, but there is no obligation for you to pay until after you have seen the show. You can then decide on a price which you think is suitable based on your experience, which means if you haven't enjoyed it at all, you don't have to pay anything.
All money collected will help ARC pay the artists who have performed, and we therefore hope you will give generously.
Please ensure you have arrived and collected your tickets 15 minutes before the show starts in order to secure your seats. At the end of the show, you can decide what to pay, either by cash on the door or by card at the Box Office.
This relaxed screening is designed to be a more enjoyable experience for learning-disabled people, people with autism and people with sensory or neurological conditions.
With help from Princess Peach, Mario gets ready to square off against the all-powerful Bowser to stop his plans from conquering the world.
Directors
Aaron Horvath, Michael Jelenic
Cast
Jack Black, Anya Taylor-Joy, Chris Pratt, Charlie Day, Seth Rogen, Keegan-Michael Key, Fred Armisen
Family screenings at ARC are supported by Film Hub North with National Lottery funding on behalf of the BFI Film Audience Network.
BBFC Ratings Info (May Contain Spoilers)

Violence

Action sequences emphasise excitement and slapstick, although in one sequence a hero is dealt repeated heavy blows, leaving him with bruises on his face. A villainous character has a piano lid slammed on his hands, while another person's moustache hair is pulled out as a form of interrogation.

Threat and horror

There are frequent scenes of fantastical action threat, including chases, a floating island-like fortress, and a character briefly being tortured with magic. Some intense moments include a person being chased by skeleton creatures, and a large monster consuming – but not killing – two heroes.

Theme

A fantastical creature expresses nihilistic views in anticipation of death, but its attitude is intended to be comic. Terms such as 'crazy', 'lunatic' and 'psycho' are also used.

Seating Accessibility Information

Cinema

Seat size

Seats in the Cinema are 45cm (172/3") wide and 46cm (18") deep, are 40cm (152/3") from the floor, and have 12cm (42/3") between seats.

Armrests

Seats in the Cinema have armrests that do not fold away, and cannot be completely removed.

Legroom

Seats in the cinema have 30cm (112/3") of legroom in front of seats, with additional legroom on row A and seats B1-B4 and B11-B14.

Further information

If you have any questions about accessibility our Box Office team are always happy to help and can be contacted on 01642 525199 or by emailing [email protected] - you can also tell us about your access requirements when prompted to do so during the online booking process.

Information about relaxed performances and screenings

We offer a number of daytime family theatre performances and cinema screenings designed to make trips to ARC a more relaxed experience for learning disabled people, people with autism and people with sensory or neurological conditions

Relaxed performances have a number of distinguishing features:

Lower volume levels

No foyer music

Consistent lighting with auditorium lights on throughout

There is a relaxed attitude to noise and moving around the auditorium

You can reserve extra seats if you need space to be comfortable

If you prefer not to queue please let us know when booking

We can provide a chill out space should you need a break.