No tickets are currently available.
Pay What You Decide Info
Dynamic Pricing
ARC's policy is to set ticket prices based on demand, like budget airlines, which means we set a price when the event goes on sale and then sometimes put the price up or down depending on how the show is selling. Usually, the price will increase as we get closer to the event, so it is advantageous to book in advance, although sometimes we will put special offers on and reduce the price. Our website will always show the current ticket price.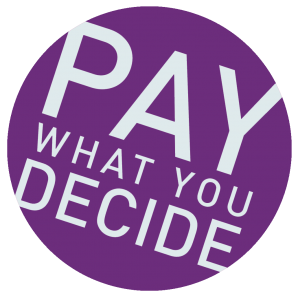 ARC's theatre and dance performances are priced on a Pay What You Decide basis, which means you don't have to pay until after you have seen a show!
We want to encourage more people to come and see shows at ARC, more often. Pay What You Decide not only allows you to pay what you can afford, rather than a fixed ticket price, but also removes the financial risk of buying a ticket for a show in advance without knowing whether you are going to enjoy it or not.
Tickets are available to book in advance as usual, but there is no obligation for you to pay until after you have seen the show. You can then decide on a price which you think is suitable based on your experience, which means if you haven't enjoyed it at all, you don't have to pay anything.
All money collected will help ARC pay the artists who have performed, and we therefore hope you will give generously.
Please ensure you have arrived and collected your tickets 15 minutes before the show starts in order to secure your seats. At the end of the show, you can decide what to pay, either by cash on the door or by card at the Box Office.
Mike McGrother and Scott Turnbull invite four local artists to perform alongside them in this month's Teesside Archetype. They will explore what makes us human… and Teessiders.
Musical, theatrical, comedic and thought provoking, what more could you want from a night at the theatre? Special guests include Ross Millard from The Futureheads, Local Film-maker Andy Berriman, Theatre-maker Umar Butt and Vocalist Milly Blue. Not only that, we have 2 choirs to sing us out – The Infant Hercules and The Ironopolettes. This one is gonna be a real banger! And if you fancy a sing along in the bar after – you're in the right place!
Ross Millard (Musician) will be performing a work in progress from a forthcoming National Theatre musical project I'm working on with Maria Crocker and Lindsay Rodden. It's set on Teesside in 2015 and is an ensemble story, but focusses on a girl who unexpectedly discovers photography as a way of expressing herself. She falls in love with the landscape, big sky and the everyday happenings in her community.
Milly Blue (Musician) will be showcasing her vocal skills and totally unique performance style with songs from her upcoming album 'Elephant Baby' which includes a song about Roseberry Topping.
Umar Butt (Theatre Maker & ARC Associate Artist) will be performing an extract from Alex & Eliza which made The Stage's top 5 shows of Nov 2019.
Andy Berriman is a local filmmaker and writer. He will be pre-recording and premiering his comedy sketch – Manspreading. As if that's not enough, Scott Turnbull will be performing a short excerpt from his upcoming show Tales from The Smog (which premieres at ARC). Then to top it all off, Mike McGrother on Fiddle, The Infant Hercules and The Ironopolettes choirs to sing us out. Join us to celebrate Teesside's Creative Archetypes at ARC