No tickets are currently available.
Dynamic Pricing
ARC's policy is to set ticket prices based on demand, like budget airlines, which means we set a price when the event goes on sale and then sometimes put the price up or down depending on how the show is selling. Usually, the price will increase as we get closer to the event, so it is advantageous to book in advance, although sometimes we will put special offers on and reduce the price. Our website will always show the current ticket price.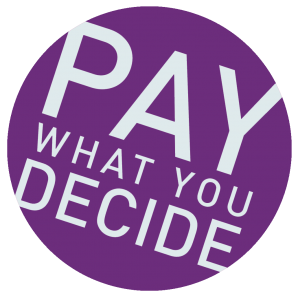 ARC's theatre and dance performances are priced on a Pay What You Decide basis, which means you don't have to pay until after you have seen a show!
We want to encourage more people to come and see shows at ARC, more often. Pay What You Decide not only allows you to pay what you can afford, rather than a fixed ticket price, but also removes the financial risk of buying a ticket for a show in advance without knowing whether you are going to enjoy it or not.
Tickets are available to book in advance as usual, but there is no obligation for you to pay until after you have seen the show. You can then decide on a price which you think is suitable based on your experience, which means if you haven't enjoyed it at all, you don't have to pay anything.
All money collected will help ARC pay the artists who have performed, and we therefore hope you will give generously.
Please ensure you have arrived and collected your tickets 15 minutes before the show starts in order to secure your seats. At the end of the show, you can decide what to pay, either by cash on the door or by card at the Box Office.
*This event can be attended in person or watched online. Book to watch online using the booking button on this page, or book here to attend in person*
Join Teesside's very own Wild Rover and Wildcats of Kilkenny frontman Mike McGrother for the latest of his monthly residencies as he shares songs, stories and observations revealing the often hidden, forgotten but still (extra)ordinary people and events of the Tees in his own, inimitable and 'mischievous' style.
We are told there are twelve archetypes which reflect humanity: The Innocent; The Everyman; The Hero; The Outlaw; The Explorer; The Creator; The Ruler; The Magician; The Lover; The Caregiver; The Jester, and The Sage. They live amongst us – and they ARE us! But who and where are they?!
Expect songs, special guests, audience interaction and, knowing Mike, a few surprises thrown in for good measure. Mark these beauties in your diary and enjoy a show each month that will leave you laughing, crying, thinking and learning so much more about our wonderful Teesside community and the people living in it.
In November, Mike focuses on Heroes: In 2014 Stockton-on-Tees became a Borough filled with Sunflowers. We began what became a 5 year commemoration of the 1245 names listed in the Book Of Remembrance held in Stockton Parish Church. Each of the names a life lost in World War I. The symbolism was simple. Plant a sunflower seed. Watch it grow and, taking one of the names of the soldiers reflect upon or research who they actually were. More than a name. More than a soldier. A life. And on August the 4th in a quite extraordinary scene, thousands of sunflowers were cut down in their prime and brought to be gently placed in a garden of remembrance. A weekend vigil ensued. Names were read out over night. Our cenotaph illuminated. Fifty young volunteers kept watch. Choirs sang. Brass Band played. A respectful young rebel – himself now also gone from us – and hundreds of others told the stories of the 1245. Growing sunflowers changed the way we remembered. But went on to change the way we lived. Walks followed – connecting, talking, empathising. A festival came next – families of the 1245 remembered and those who have no family today; we remembered the lonely – the isolated and those desperately needing help from a Samaritan or a friend. And then, we found that 1245 should have been 1246. In fact, it should have contained many more names and stories… and we created an event of 1246 singers, of 50000 recycled bottles lovingly cleaned and transformed into illuminated sunflowers by volunteers and an army of helpers in HMPS Holme House. We stood together – in the streets and fields that those soldiers would have done. And we told their stories. Tonight. We remember again the stories of the heroes of 1914 – 1918 and also tell of other heroes we met during the extraordinary project that was The 1245 Sunflowers.
Mike will be collaborating with one of ARC's Associate Artists, Scott Turnbull:
"I am delighted to be joined on my Archetype journey by the fantastic Scott Turnbull. I have known Scott for almost 20 years having somehow convinced the rather reticent young man to enrol onto the Performing Arts Course I was then running at Stockton & Billingham College. He always had a spark about him and whether it was playing the boyish Charlie Bucket in our production of Charlie and the Chocolate Factory or the dark, menacing Judas Iscariot in Jesus Christ Superstar, (he was one of the first performers to grace the stage when ARC re-opened back in the 2004), Scott always had something creative and different up his sleeve. He went on to train at LIPA before re-emerging back on Teesside as a remarkable writer, performer and illustrator. He created the quite amazing 'Where Do All The Dead Pigeons Go' and his ability to tell a story in the most compelling, hilarious but equally at times devastating manner absolutely blew me away. Scott is now working on his new project 'The Smog' but I have invited him to help me tell stories of people we both live alongside because his inventiveness, humour and surreal approach will, if nothing else keep ME entertained and energised. Expect laughs. Expect loose lunacy and expect extraordinary overhead projector craftsmanship as you've never seen it before. I think this collaboration is going to be really quite special." 
Photo credit – ENA Photography
Online access to this performance will be via our dedicated streaming service. Click here to log in with your usual ARC account details (if you've forgotten your log in details, the email address will be the one that normally receives emails from us, and your password can easily be reset from the log in page).