No tickets are currently available.
Dynamic Pricing
ARC's policy is to set ticket prices based on demand, like budget airlines, which means we set a price when the event goes on sale and then sometimes put the price up or down depending on how the show is selling. Usually, the price will increase as we get closer to the event, so it is advantageous to book in advance, although sometimes we will put special offers on and reduce the price. Our website will always show the current ticket price.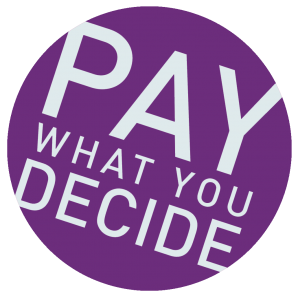 ARC's theatre and dance performances are priced on a Pay What You Decide basis, which means you don't have to pay until after you have seen a show!
We want to encourage more people to come and see shows at ARC, more often. Pay What You Decide not only allows you to pay what you can afford, rather than a fixed ticket price, but also removes the financial risk of buying a ticket for a show in advance without knowing whether you are going to enjoy it or not.
Tickets are available to book in advance as usual, but there is no obligation for you to pay until after you have seen the show. You can then decide on a price which you think is suitable based on your experience, which means if you haven't enjoyed it at all, you don't have to pay anything.
All money collected will help ARC pay the artists who have performed, and we therefore hope you will give generously.
Please ensure you have arrived and collected your tickets 15 minutes before the show starts in order to secure your seats. At the end of the show, you can decide what to pay, either by cash on the door or by card at the Box Office.
Seating: Allocated - See Seating Plan for More Details
*This event can be attended in person or watched online. Book to attend in person using the booking button on this page, or book here to watch online*
Join Teesside's very own Wildcats of Kilkenny frontman Mike McGrother for the latest of his monthly residencies as he shares songs, stories and observations revealing the often hidden, forgotten but still (extra)ordinary people and events of the Tees in his own, inimitable and 'mischievous' style.
We are told there are twelve archetypes which reflect humanity: The Innocent; The Everyman; The Hero; The Outlaw; The Explorer; The Creator; The Ruler; The Magician; The Lover; The Caregiver; The Jester, and The Sage. They live amongst us – and they ARE us! But who and where are they?!
With this event Mike focuses on The Outlaw: Loveable rogues and 'salt of the earth' characters … we all know them. Sometimes we ARE them. But few reap terror through the streets as much as Roly 'The Nick' Waugh. His devilish bone rattling crime remains a piece of Stockton folklore. A chance to get to know our arch criminal and hear about his extraordinary life and times living on Teesside. And then after the break… It's time for Confession!
"I am delighted to be joined on my Archetype journey by the fantastic Scott Turnbull. Expect laughs. Expect loose lunacy and expect extraordinary overhead projector craftsmanship as you've never seen it before. I think this collaboration is going to be really quite special." – Mike
Photo credit – ENA Photography
Follow Mike on Twitter
Like Mike on Facebook
Follow Mike on Instagram