Book here
Pay What You Decide Info
Dynamic Pricing
ARC's policy is to set ticket prices based on demand, like budget airlines, which means we set a price when the event goes on sale and then sometimes put the price up or down depending on how the show is selling. Usually, the price will increase as we get closer to the event, so it is advantageous to book in advance, although sometimes we will put special offers on and reduce the price. Our website will always show the current ticket price.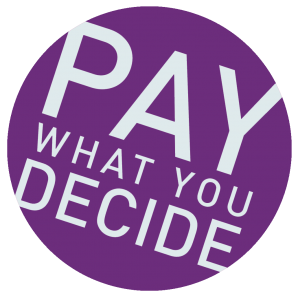 ARC's theatre and dance performances are priced on a Pay What You Decide basis, which means you don't have to pay until after you have seen a show!
We want to encourage more people to come and see shows at ARC, more often. Pay What You Decide not only allows you to pay what you can afford, rather than a fixed ticket price, but also removes the financial risk of buying a ticket for a show in advance without knowing whether you are going to enjoy it or not.
Tickets are available to book in advance as usual, but there is no obligation for you to pay until after you have seen the show. You can then decide on a price which you think is suitable based on your experience, which means if you haven't enjoyed it at all, you don't have to pay anything.
All money collected will help ARC pay the artists who have performed, and we therefore hope you will give generously.
Please ensure you have arrived and collected your tickets 15 minutes before the show starts in order to secure your seats. At the end of the show, you can decide what to pay, either by cash on the door or by card at the Box Office.
Notes for bookers:
The live performance will take place from 8pm on Wed 17 March. A live recording will be available to watch online until the end of Sat 20 Mar.
Please check your booking confirmation email for the livestream link. 
About Pay What You Decide for online shows: 
Book your ticket in the normal way
You will be emailed a link to ARC's streaming site so you can watch the show
After the show follow the details on the stream page to make your Pay What You Decide payment
All money raised via Pay What You Decide will be used to pay Mike and the band so we hope you'll give generously
The Wild Rover presents The Good Compaddyions – A St Paddy's Day House Party in association with Stockton Community Partnerships.
As we get closer to the end of lockdown restrictions, we couldn't resist asking our friend, and favourite Irish-ish Wild Rover, Mike McGrother to bring you all a bit of St Patrick's Day craic. As it turns out, he is already spreading a bit of Celtic joy across Stockton-on-Tees that day!
Working with Stockton's 7 Community Partnerships, Mike and a couple of 'laterally tested leprechauns' will be popping up in gardens throughout the day to say 'thank you' or just bring a smile to some residents with little bit of joy and a much needed jig!
But, to end the day, Mike will be opening up his now regular virtual bar here at ARC and adding a few more members to the band to help him share some stories from the day and get you clapping in your kitchen; bopping in your bedroom and singing loud and proud in your sitting room. The 90 minute party will be available via an exclusive viewing link and tickets are available on a Pay What You Decide basis.
This event is suitable for the whole family to enjoy as Mike promises to leave his naughty words at home for the day.