No tickets are currently available.
Dynamic Pricing
ARC's policy is to set ticket prices based on demand, like budget airlines, which means we set a price when the event goes on sale and then sometimes put the price up or down depending on how the show is selling. Usually, the price will increase as we get closer to the event, so it is advantageous to book in advance, although sometimes we will put special offers on and reduce the price. Our website will always show the current ticket price.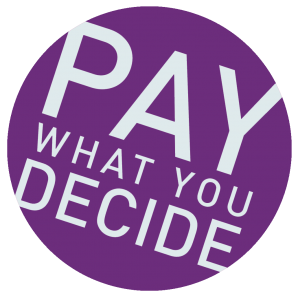 ARC's theatre and dance performances are priced on a Pay What You Decide basis, which means you don't have to pay until after you have seen a show!
We want to encourage more people to come and see shows at ARC, more often. Pay What You Decide not only allows you to pay what you can afford, rather than a fixed ticket price, but also removes the financial risk of buying a ticket for a show in advance without knowing whether you are going to enjoy it or not.
Tickets are available to book in advance as usual, but there is no obligation for you to pay until after you have seen the show. You can then decide on a price which you think is suitable based on your experience, which means if you haven't enjoyed it at all, you don't have to pay anything.
All money collected will help ARC pay the artists who have performed, and we therefore hope you will give generously.
Please ensure you have arrived and collected your tickets 15 minutes before the show starts in order to secure your seats. At the end of the show, you can decide what to pay, either by cash on the door or by card at the Box Office.
Seating: Allocated - See Seating Plan for More Details
Acclaimed filmmaker Joachim Trier (Oslo, August 31st, Louder Than Bombs) returns with The Worst Person In The World, a wistful and subversive romantic drama about the quest for love and meaning.
Set in contemporary Oslo, it features a star-making lead performance from Renate Reinsve as a young woman who, on the verge of turning thirty, navigates multiple love affairs, existential uncertainty and career dissatisfaction as she slowly starts deciding what she wants to do, who she wants to be, and ultimately who she wants to become.
As much a formally playful character study as it is a poignant and perceptive observation of quarter-life angst, this life-affirming coming of age story deservedly won Reinsve the Best Actress award at the 2021 Cannes Film Festival.
Nominated for two Academy Awards (Original Screenplay and International Feature Film), and two BAFTA awards (Leading Actress and Film Not in the English Language).
★★★★★ "A truthful, tender masterpiece" – Empire
★★★★★ "Sublime… An instant classic" – The Guardian
★★★★★ "Spellbinding… A character study for the ages" – Little White Lies
BBFC Rating Info

drugs

A group of friends eat magic mushrooms, and a woman's drug trip is depicted in the scene that follows. During the scene, she hallucinates several hands touching her naked body, with on-screen sight of breast nudity. In the same scene she imagines pulling a tampon from her vagina and throwing it at a man's face; she then smears some menstrual blood on her own face. Drug misuse is not glamourised by the film.

sex

Scenes of strong sex include implied oral sex, and buttock nudity. There are also strong sex references, including a detailed description of fellatio. After a sex scene there is brief sight of a man's flaccid penis.

The film features infrequent strong language ('f**k'). There are also undetailed references to sexual violence. There are references to illness and bereavement.