Dynamic Pricing Info
Dynamic Pricing
ARC's policy is to set ticket prices based on demand, like budget airlines, which means we set a price when the event goes on sale and then sometimes put the price up or down depending on how the show is selling. Usually, the price will increase as we get closer to the event, so it is advantageous to book in advance, although sometimes we will put special offers on and reduce the price. Our website will always show the current ticket price.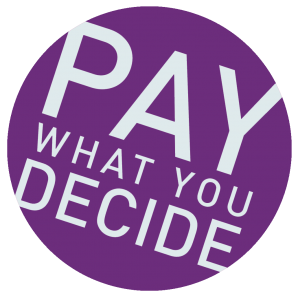 ARC's theatre and dance performances are priced on a Pay What You Decide basis, which means you don't have to pay until after you have seen a show!
We want to encourage more people to come and see shows at ARC, more often. Pay What You Decide not only allows you to pay what you can afford, rather than a fixed ticket price, but also removes the financial risk of buying a ticket for a show in advance without knowing whether you are going to enjoy it or not.
Tickets are available to book in advance as usual, but there is no obligation for you to pay until after you have seen the show. You can then decide on a price which you think is suitable based on your experience, which means if you haven't enjoyed it at all, you don't have to pay anything.
All money collected will help ARC pay the artists who have performed, and we therefore hope you will give generously.
Please ensure you have arrived and collected your tickets 15 minutes before the show starts in order to secure your seats. At the end of the show, you can decide what to pay, either by cash on the door or by card at the Box Office.
Seating: Standing and Allocated Seating
This is a rescheduled event. Tickets for the new date will be on sale as soon as we have finished transferring existing bookings to the new date. If you would like us to contact you when tickets become available please let our Box Office team know by emailing [email protected] or calling 01642 525199.
Iconic British psychedelic pop legends The Zombies have returned to celebrate their long-awaited Induction into The Rock & Roll Hall of Fame. The Zombies joined Stevie Nicks, Radiohead, The Cure, Def Leppard, Janet Jackson, and Roxy Music as the 2019 Class of. Fittingly, the Induction Ceremony took place exactly 50 years to-the-day after The Zombies' classic "Time of the Season" first hit number 1 on the charts in America.
The band's live performances, described by Rolling Stone as "absolutely triumphant", take fans on a journey through time, from their early hits…their 1968 masterpiece Odessey & Oracle…post-Zombies solo favourites…right to today with Still Got That Hunger.
The second U.K. band following the Beatles to score a #1 hit in America, The Zombies infiltrated the airwaves with the sophisticated melodies, breathy vocals, choral back-up harmonies and jazzy keyboard riffs of their 1960's hit singles "She's Not There" and "Tell Her No." Ironically, the group broke-up just prior to achieving their greatest success – the worldwide chart-topping single "Time of the Season," from their swan-song album  Odessey & Oracle, ranked #100 in Rolling Stone's '500 Greatest Albums of All Time.'  To this day, generations of new bands have cited The Zombies' work as pop touchstones, and the band continues to be embraced by new generations of fans.
The band's 2019 Rock & Roll Hall of Fame Induction marked a major triumph in their 5-decade career, but you can be sure they will not rest on their laurels.  The Zombies story continues on….!
Support on the night via Bruce Sudano who is noted for creating songs for artists such as Michael Jackson, Dolly Parton, Reba McEntire.
Visit The Zombies' website
Follow The Zombies on Twitter
Like The Zombies on Facebook
Follow The Zombies on Instagram