No tickets are currently available.
Dynamic Pricing
ARC's policy is to set ticket prices based on demand, like budget airlines, which means we set a price when the event goes on sale and then sometimes put the price up or down depending on how the show is selling. Usually, the price will increase as we get closer to the event, so it is advantageous to book in advance, although sometimes we will put special offers on and reduce the price. Our website will always show the current ticket price.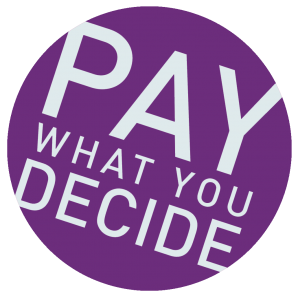 ARC's theatre and dance performances are priced on a Pay What You Decide basis, which means you don't have to pay until after you have seen a show!
We want to encourage more people to come and see shows at ARC, more often. Pay What You Decide not only allows you to pay what you can afford, rather than a fixed ticket price, but also removes the financial risk of buying a ticket for a show in advance without knowing whether you are going to enjoy it or not.
Tickets are available to book in advance as usual, but there is no obligation for you to pay until after you have seen the show. You can then decide on a price which you think is suitable based on your experience, which means if you haven't enjoyed it at all, you don't have to pay anything.
All money collected will help ARC pay the artists who have performed, and we therefore hope you will give generously.
Please ensure you have arrived and collected your tickets 15 minutes before the show starts in order to secure your seats. At the end of the show, you can decide what to pay, either by cash on the door or by card at the Box Office.
Seating: Allocated - See Seating Plan for More Details
Bored by the daily tedium of her office job, Kate (Ruth Wilson) is sleepwalking through life when a chance sexual encounter with a charismatic stranger (Tom Burke) awakens her. High on infatuation and the exhilaration of this new relationship, she finds herself inexplicably drawn to this mysterious new man. Hoping he will provide the escape she so desperately desires, she embarks on an emotionally dangerous journey that slowly begins to consume her. True Things is the unmissable new film from acclaimed director Harry Wootliff and it arrives in cinemas on 1 April.
Screenings of True Things on Sat 30 April at 2pm, and Thu 5 May at 2pm will be presented with Descriptive Subtitles.
BBFC Ratings Info

language

There is very strong language ('c**t') and strong language ('f**k'), accompanied by other milder terms ('bitch', 'slag', 'bloody', 'shit', 'shag', 'pissed', 'bastard', 'hell' and 'God').

sex

There are scenes of strong sex, which include masked oral sex and masturbation, with some sexualised nudity.

drugs

There is misuse of drugs, including ketamine and ecstasy.

flashing/flicking lights

This work contains flashing images which may affect viewers who are susceptible to photosensitive epilepsy.

Threat is moderate. There are suicide references. There are also scenes in which a woman experiences vivid nightmares.