Age: 3+
Free
Dynamic Pricing
ARC's policy is to set ticket prices based on demand, like budget airlines, which means we set a price when the event goes on sale and then sometimes put the price up or down depending on how the show is selling. Usually, the price will increase as we get closer to the event, so it is advantageous to book in advance, although sometimes we will put special offers on and reduce the price. Our website will always show the current ticket price.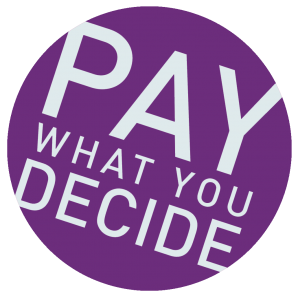 ARC's theatre and dance performances are priced on a Pay What You Decide basis, which means you don't have to pay until after you have seen a show!
We want to encourage more people to come and see shows at ARC, more often. Pay What You Decide not only allows you to pay what you can afford, rather than a fixed ticket price, but also removes the financial risk of buying a ticket for a show in advance without knowing whether you are going to enjoy it or not.
Tickets are available to book in advance as usual, but there is no obligation for you to pay until after you have seen the show. You can then decide on a price which you think is suitable based on your experience, which means if you haven't enjoyed it at all, you don't have to pay anything.
All money collected will help ARC pay the artists who have performed, and we therefore hope you will give generously.
Please ensure you have arrived and collected your tickets 15 minutes before the show starts in order to secure your seats. At the end of the show, you can decide what to pay, either by cash on the door or by card at the Box Office.
From the team that brought you Oh No, George! live on stage comes the perfect digital storytime treat for those aged 3+ and their grown ups.
What Will George Do? is the delightfully playful tale of a dog who wants to be good but just can't resist temptation. Adapted from the Oh No, George! picture book by multi-award winning author and illustrator Chris Haughton and stage show by Can't Sit Still, this new digital pursuit is for every child (and adult) whose best intentions sometimes go awry…
George sees something in the kitchen.
It's cake!
I said I'd be good, George thinks, but I LOVE cake. What will George do?
In this digital production provided via the freely available interactive Eko platform, each time George faces a dilemma, the audience decides for themselves – What Will George Do? – by selecting an option on their device, and seeing where their decision leads George.
What Will George Do? uses acrobatics, music, integrated sign language and animation to bring George's chaotic and joyful escapades to life through 5 short choice driven episodes which can be enjoyed watched one after the other or as standalone stories.
Watch all 5 episodes for free now via Can't Sit Still's website.
The new decision based digital adventure What Will George Do? has been commissioned by The Space who commission and support work which delivers greater access to the arts using digital platforms and content.