Dynamic Pricing
ARC's policy is to set ticket prices based on demand, like budget airlines, which means we set a price when the event goes on sale and then sometimes put the price up or down depending on how the show is selling. Usually, the price will increase as we get closer to the event, so it is advantageous to book in advance, although sometimes we will put special offers on and reduce the price. Our website will always show the current ticket price.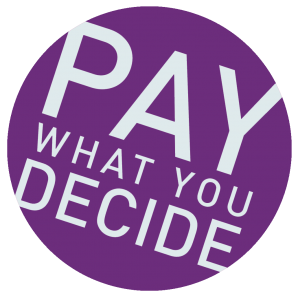 ARC's theatre and dance performances are priced on a Pay What You Decide basis, which means you don't have to pay until after you have seen a show!
We want to encourage more people to come and see shows at ARC, more often. Pay What You Decide not only allows you to pay what you can afford, rather than a fixed ticket price, but also removes the financial risk of buying a ticket for a show in advance without knowing whether you are going to enjoy it or not.
Tickets are available to book in advance as usual, but there is no obligation for you to pay until after you have seen the show. You can then decide on a price which you think is suitable based on your experience, which means if you haven't enjoyed it at all, you don't have to pay anything.
All money collected will help ARC pay the artists who have performed, and we therefore hope you will give generously.
Please ensure you have arrived and collected your tickets 15 minutes before the show starts in order to secure your seats. At the end of the show, you can decide what to pay, either by cash on the door or by card at the Box Office.
We wanted to know what's on the mind of our local communities – so we thought we'd take some time to ask.
For What's On Your Mind? we met with lots of different people in the community and groups who call ARC their home to find out more about the hopes and concerns of local people throughout the Borough of Stockton on Tees.
We took these themes and everything else we learned through our conversations with you to commission 14 artists to respond with new pieces of work that will engage with the ideas at the forefront of Stockton's collective consciousness.
The selected artists will create exciting work to be shared in a range of digital formats, and between Tuesday 19 October and Friday 3 December we will be showcasing that work twice a week at 1pm (both online via our website and in our foyer).
The first two artists who will be presenting work are Henry Raby (Tue 19 Oct) and Dermot Daly (Fri 22 Oct).
Henry Raby – Tue 19 Oct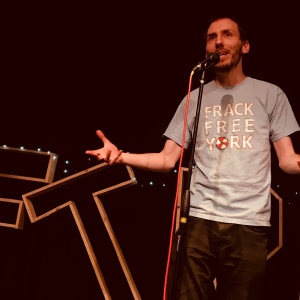 Henry Raby is a punk poet based in York. His work has been described as playful, highly-charged, passionate and anarchic! He's performed at festivals and in front rooms, equally at ease in the back rooms of pubs to large scale events. He writes about friendship and community, hope and anger all mixed together with an unruly approach to form and style. His debut collection, Nerd Punk, was published by Burning Eye Books in 2018.
Henry co-founded the poetry/spoken word organisation Say Owt. He is part of Vandal Factory theatre company who have toured shows across the UK to all manner of unique and underground spaces. He has worked with youth theatres to create urgent and exciting theatre, and is currently the Broadcasting Worker at Chapel FM Arts Centre. Here, Henry supports people getting into community radio and finding their voice.
Henry will be presenting:
We Don't Know How To Talk To Each Other
An audio piece written by poet Henry Raby, this collection of local perspectives looks at development and redevelopment and the thoughts and stories beneath the water's surface. At times fragmented, at other times united, this piece weaves both the past, the present and hopes for the future of Stockton on Tees. Featuring the voice of Lisette Auton.
With BSL:
Read the transcript online
Download the transcript as a Word document
Download the transcript as a PDF
Dermot Daly – Fri 22 Oct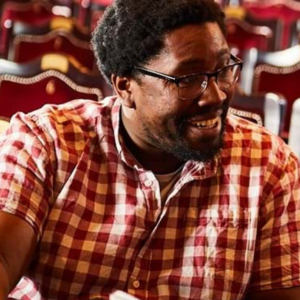 Dermot Daly, amongst other things, is a filmmaker, photographer, and sound artist. His artistic work also incorporates theatre and radio.
Dermot will be presenting:
The Good Old Days
The final sentence of the provocation that triggered this piece is "it's never going to be as good as it was before", but just how good was it 'before'? What have we gained? What have we lost? What might we be?
Other artists presenting work over the coming weeks are:
Leo Skillbeck, Khalid Aljawad, Ross Millard, Barra Collins, Audrey Cook, Tommy, Saya Rose Naruse, Paula Varjack, Leo Mercer, Ben Freeth, Lisette Auton, and Sarah Watson. We can't wait to see what they'll be sharing with us – don't forget to tune in every Tuesday and Friday to find out!
Find out more about the journey of What's On Your Mind? so far in Creative Director Paula Clark's blog.