No tickets are currently available.
Dynamic Pricing
ARC's policy is to set ticket prices based on demand, like budget airlines, which means we set a price when the event goes on sale and then sometimes put the price up or down depending on how the show is selling. Usually, the price will increase as we get closer to the event, so it is advantageous to book in advance, although sometimes we will put special offers on and reduce the price. Our website will always show the current ticket price.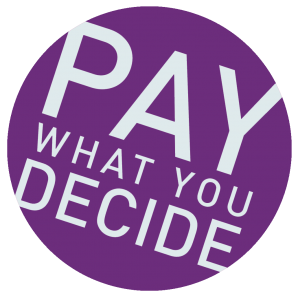 ARC's theatre and dance performances are priced on a Pay What You Decide basis, which means you don't have to pay until after you have seen a show!
We want to encourage more people to come and see shows at ARC, more often. Pay What You Decide not only allows you to pay what you can afford, rather than a fixed ticket price, but also removes the financial risk of buying a ticket for a show in advance without knowing whether you are going to enjoy it or not.
Tickets are available to book in advance as usual, but there is no obligation for you to pay until after you have seen the show. You can then decide on a price which you think is suitable based on your experience, which means if you haven't enjoyed it at all, you don't have to pay anything.
All money collected will help ARC pay the artists who have performed, and we therefore hope you will give generously.
Please ensure you have arrived and collected your tickets 15 minutes before the show starts in order to secure your seats. At the end of the show, you can decide what to pay, either by cash on the door or by card at the Box Office.
Part of Curious Festival
"We all have the right to be free from discrimination, and have the right to life, love and peace, safe from harm and challenges." Amnesty International UK
Words Bare started in 2016, with research from lesbian communities. The exhibition aimed to challenge prejudice lesbians had faced in the modern world, simply for not moulding into a particular social expectation/role.
Two years on, Words Bare has organically grown with research received from the wider LGBTQ+ communities. We are all beautifully unique in gender, sexuality and identity, but we have all been victims of prejudice.
The artwork aims for the viewer to question why these views are still present and vocalised today, and to encourage the movement towards social equality.
The project isn't about dividing, it's about creating an outlet for difficult experiences to be seen and heard. It is about solidarity and unity, trying to help those that may feel alone, less isolated.
Groups, individuals and organisations continue to work towards a world of diversity, inclusivity and equality, where people can live happily and peacefully.