Dynamic Pricing
ARC's policy is to set ticket prices based on demand, like budget airlines, which means we set a price when the event goes on sale and then sometimes put the price up or down depending on how the show is selling. Usually, the price will increase as we get closer to the event, so it is advantageous to book in advance, although sometimes we will put special offers on and reduce the price. Our website will always show the current ticket price.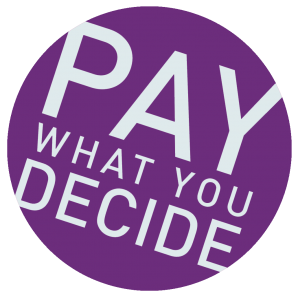 ARC's theatre and dance performances are priced on a Pay What You Decide basis, which means you don't have to pay until after you have seen a show!
We want to encourage more people to come and see shows at ARC, more often. Pay What You Decide not only allows you to pay what you can afford, rather than a fixed ticket price, but also removes the financial risk of buying a ticket for a show in advance without knowing whether you are going to enjoy it or not.
Tickets are available to book in advance as usual, but there is no obligation for you to pay until after you have seen the show. You can then decide on a price which you think is suitable based on your experience, which means if you haven't enjoyed it at all, you don't have to pay anything.
All money collected will help ARC pay the artists who have performed, and we therefore hope you will give generously.
Please ensure you have arrived and collected your tickets 15 minutes before the show starts in order to secure your seats. At the end of the show, you can decide what to pay, either by cash on the door or by card at the Box Office.
Putting women's voices and experiences at the forefront of the discourse, impassioned new public art installation You Heard Us will be presented throughout Stockton, Bradford, Cambridge and London. Writer, theatre-maker and artist Luca Rutherford (Learning How to Die, ARC Stockton; Hold On Let Go; Summerhall) will invite 40 community participants and artistic collaborators to contribute to take up public space, ultimately asking the public to harness them and their power, and question whether we are listening and being listened to.
The large-scale artwork is all about celebrating women, women listening to each other, and women defiantly taking up public spaces. The piece will explore these important themes through a collaborative process between Luca and 40 local women in Bradford, Stockton, Deptford (London), and Cambridge. Following conversations about the women's voice, Luca will work with local photographers to take the women's portraits and collectively decide where to display them on buildings around each locality. In a world where those who shout the loudest are the ones who are heard, Luca takes the intimacy of a photograph and plasters it on a large scale to be loud without shouting. Wordless images, seen by thousands, will show how small moments of quiet can be powerful.
With the core of You Heard Us rooted in intersectional feminism, representation within the photographs is key. The project is about listening to women: when the team say women, they mean anyone who identifies in any way with the notion of womanhood, some or all of the time.
Luca Rutherford comments, 'I have come up with this idea because with portraits in public spaces you can make a lot of noise in a very quiet way. I often find that we listen to the people who shout the loudest, but I want this project to make space for anyone who feels quiet as well as loud'.
The process for the participants is the point at which 'art' is created, whilst the practice of the amplification of voices, of their physicality and of visibility in public space becomes the 'art'. Participants become their own canvas and their own medium for expression, empowering them to find strength in their quietness, to advance the quality of their daily lives and across whole communities. These small ripples of change become the inspiration for wider impact.
Images will be popping up around Stockton from Monday 25 October – watch this space for more details!
This rousing installation will be followed by a powerful piece of theatre, You Heard Me, which will embark on a tour of the UK between February and April 2022. Staged at ARC Stockton on Wednesday 16 and Thursday 17 February 2022, the play will coincide with the re-installation of the public artwork.