Disability Arts in the North East – A Living Archive
A tribute to all the disabled artists and groups who have made up the Disability Arts Movement past and present
About Vici
Vici is an award-winning disabled theatre and screen writer/director and long term campaigner for the cultural equality of disabled people. She is the founding Artistic Director of Little Cog which is a disabled-led theatre and production company based in the North East of England, set up in 2011. A leading figure in the UK Disability Arts movement for almost thirty years, Vici's recent work includes the BBC commissioned short film Hen Night and Funny Peculiar starring BBC Silent Witness star Liz Carr.  She trained as a theatre director and playwright at the University of Kent and on graduating, came back North to set up one of the first feminist theatre companies in the region and founded the Moving On project for learning disabled women in Hartlepool.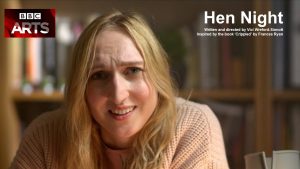 (Hen Night)
In 1999 Vici was appointed CEO of Arts and Disability Ireland –a development organisation for the Republic of Ireland – where she produced a series of highly successful Disability Cabarets, introduced a National Mentoring Programme for Disabled Artists and was Artistic Director of the first national disability arts festival in the Republic Of Ireland – Dis/Cover. Whilst in Ireland Vici directed two of the first pieces of Disability Theatre in the Republic, The Baby Doll Project by Rosaleen McDonagh which won a Metro Eireann Multi-Cultural Award, and Broadcast co-devised with Donal Toolan, which was part of the Dublin Fringe Theatre Festival.
In 2003, after her role in Ireland, Vici returned home to become director of Arcadea, formerly Northern Disability Arts Forum, which was then the North East's Disability Arts Development Agency. She held the post for six years before setting up Little Cog. The organisation supported the professional development and showcasing of the work of a number of disabled artists. Vici was Artistic Director of the region-wide Mimosa Festival celebrating professional disability art from around the country. In 2021 Vici received the Journal Art and Culture Awards for Outstanding Contribution to the Arts in the North East.
Vici's statement on this exhibition.
"I'm incredibly proud of the developments of the Disability Rights Movement in this country and the contributions to change made in the North East. Without disabled peoples' campaigns and protests we wouldn't have the changes in legislation and provision of services that we have today, and we would not have made the cultural advances across the arts which raise the profile of disabled peoples' experiences and highlight the talent we have.
In the North East between 20 and 25% of the population consists of disabled people, and is at the higher end of that in Stockton-On-Tees where much of my work is based. This is a significant proportion of people in our families and communities.
Many disabled people would argue that we are far from having equal status to our non-disabled peers in society, and I agree with that – there is a lot more to be done. The United Nations in a 2017 report described the way disabled people are treated in the UK is a 'human catastrophe' and that we are being shut out of society. This means that being visible through the arts – TV, film, theatre, comedy, music, visual arts, dance – seems crucial to me."
Vici's current projects 
Vici is a long term collaborator with Full Circle, an ensemble of learning disabled actors and they are currently presenting Stomping Ground at SIRF 2022, after devising for 2 years on zoom. She is currently under commission from Live Theatre to write Three Acts of Love alongside Laura Lindow and Naomi Obeng, due to be presented later this year.
Learn more about Vici and her other projects