Are you a performance based artist or company looking to get away for a week?
ARC can offer you free accommodation and workspace for one week, to enable you to get away and embrace some fresh thinking along with some North East air.
ARC Getaways can be used for research and development processes, rehearsals, writing or thinking time – whatever you need to do to help you further your artistic practice or process. There are no requirements to share work, although you are welcome to host a sharing if that's useful for you.
All we ask is that you spare half an hour on your first day for an informal meeting with ARC staff, so we can get to know you and your work.
ARC Getaways are available for performance based artists and companies whose work or practice is aligned with our artistic policy. Please read the policy before applying.
We are keen to use ARC Getaways to introduce new artists to the organisation, particularly those who are currently under-represented in our programme.
Workspaces:
ARC has a variety of workspaces available including meeting rooms and performance spaces. We will try to give you exclusive use of the same space all week. If we do need to offer you alternative space on any of your working days, we will always tell you this in advance of your Getaway week, so you can plan your activities accordingly.
Find out more about the technical specifications of our spaces.
Meeting Room 1 is a carpeted room with white walls, approximately 4m wide x 7m long. It has windows with curtains down one side and is equipped with a projector and screen but no other performance equipment. Here you can see a photo of the room set up boardroom style.

Meeting Room 3 is a smaller meeting room, approximately 6.6m 4.3m, suitable for writing, research or planning activities.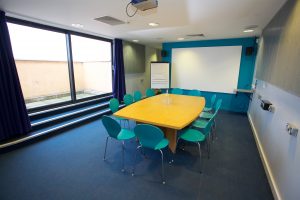 We also have hot desks in our main office if you prefer to be in a busy environment.
ARC is an accessible building and we aim to meet everyone's access requirements.
Accommodation:
Accommodation will be provided in the ARC House.
Find out more about the ARC House.
Availability:
Availability of workspace and accommodation varies throughout the year. Please indicate your preferred weeks on the application form.
Hospitality:
To make you extra welcome at ARC, artists on ARC Getaways can claim free tea and coffee as well as a 10% discount on food at No 60, ARC's café bar. Free Wi-Fi is available throughout the building.
Support in kind:
For support in kind purposes, ARC Getaways are valued at a minimum of £500 plus £200 per person.
How to apply:
There is no set deadline. ARC Getaways are available on a rolling basis subject to availability. To apply, please complete the attached form together with an equality monitoring form and email it to [email protected]
Please contact us if you require this information in an accessible format. We are happy to receive applications in alternative formats.
We will get back to you with a decision within two weeks.