No tickets are currently available.
Pay What You Decide Info
Age: 15+
Running time: 70 mins approx.
Contains strong language and some flashing lights
Dynamic Pricing
ARC's policy is to set ticket prices based on demand, like budget airlines, which means we set a price when the event goes on sale and then sometimes put the price up or down depending on how the show is selling. Usually, the price will increase as we get closer to the event, so it is advantageous to book in advance, although sometimes we will put special offers on and reduce the price. Our website will always show the current ticket price.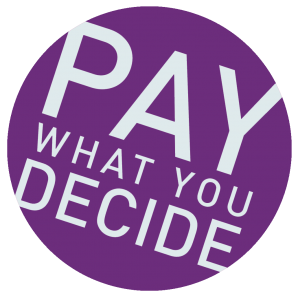 ARC's theatre and dance performances are priced on a Pay What You Decide basis, which means you don't have to pay until after you have seen a show!
We want to encourage more people to come and see shows at ARC, more often. Pay What You Decide not only allows you to pay what you can afford, rather than a fixed ticket price, but also removes the financial risk of buying a ticket for a show in advance without knowing whether you are going to enjoy it or not.
Tickets are available to book in advance as usual, but there is no obligation for you to pay until after you have seen the show. You can then decide on a price which you think is suitable based on your experience, which means if you haven't enjoyed it at all, you don't have to pay anything.
All money collected will help ARC pay the artists who have performed, and we therefore hope you will give generously.
Please ensure you have arrived and collected your tickets 15 minutes before the show starts in order to secure your seats. At the end of the show, you can decide what to pay, either by cash on the door or by card at the Box Office.
*This event can be attended in person or watched online. Book to attend in person using the booking button on this page, or book here to watch online*
This new work is a co-commission between ARC and The Northern School of Art as part of the two organisations' ongoing partnership. The piece is created collaboratively by playwright Eve Leigh (Midnight Movie & The Trick) and third year BA (Hons) Acting for Stage & Screen students supported by students from BA (Hons) Film, TV & Theatre Production. The evening will be an opportunity for the students to showcase their work ahead of graduation in an innovative and dynamic piece of new writing.
Incense and Bleach
When Liv's relationship turns nasty, she comes to live with her sister, Shane. But Shane lives in a commune – an intentional community, as she prefers to call it. It's overcrowded, and everyone has to share the same space without sharing the same ideals, or life experience, or – much of anything. In the midst of a housing and cost-of-living crisis, this play asks: are there are better ways for us to live together?
'We are really excited to continue our working relationship with Eve on this new project. It is great that the students get to work with such a great writer and also collaborate on a piece that will be their end of year showcase. The students have developed and grown so much during their three years studying with us, it will be a fantastic opportunity for them to showcase their skills ahead of graduating.' – Faculty Leader for Stage & Screen, Jonny Bussell
India Robertson, 3rd year Acting – 'I am excited to be working with Eve Leigh, a highly-regarded playwright, on a new piece exploring current issues. Furthermore, I am looking forward to showcasing all of the skills that I have developed over the past three years'.
Aoife McKeown, 3rd year Film, TV & Theatre Production – 'I'm really looking forward to working with an industry professional and getting the chance to collaborate on a full-scale production. It's really exciting thinking about the opportunity to showcase my skills as a technician on this completely new piece of theatre.'
Gemma Blake, 3rd year Acting – 'Creating new and exciting work is my passion and I cannot wait to work with Eve Leigh and be a part of her creative vision for Incense & Bleach. Using workshops allows Eve to truly see us as the passionate theatre makers we are and adapt the play to utilise the skills we have learnt and developed over the last three years. This play is a beautiful way for us to work together creatively before graduation and leave a positive impact on The Northern School of Art.'